Visit-X - visit-x.net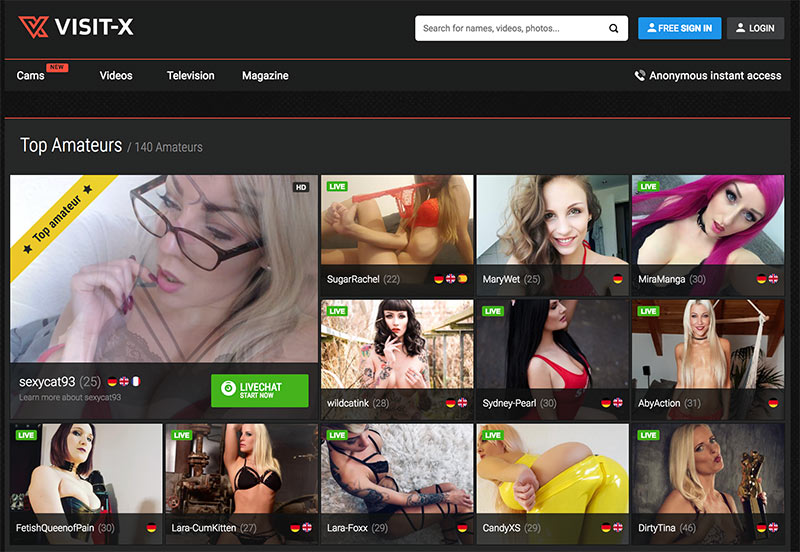 Visit-x.net is a German cam site that was registered in November of 1999. There's no ownership information available, but they appear to be an independently-run site.
As of March, 2019, Visit-x is the 27,391st most-visited website worldwide and the 1,318th most-visited website in Germany. Its Alexa ranking is 82,873. 71% of the site's users are from Germany, and 6% are from Switzerland.

Visit-X Chat Costs
While creating a Visit-x account is free, there are no free public chats on this site. All chat rooms charge a per-minute rate. This is paid in real currency, so you don't have to worry about converting tokens to dollars. Instead, you'll get to convert Euros to dollars. We've done this for you, but keep in mind that exchange rates change every day, so there's no way of knowing for sure what your costs may be in the future.
There are two types of shows on Visit-x.net:
Group shows, where you can watch the model's cam as well as participate in the chat.
Voyeur shows, where you can view the model's cam but not participate in the chat.
Prices vary only slightly from model to model.
| | | | |
| --- | --- | --- | --- |
| Group | €1.89 - €1.99 | $2.12 - $2.23 | $10.60 - $11.15 |
| Voyeur | €1.79 | $2.01 | $10.05 |
This is comparable to what you'll pay on most American amateur cam sites, and less than you'll pay for most professional porn stars. Some models offer a free live preview. However, the preview only lasts for five seconds, and requires age verification.
If you plan on watching a lot of cams, Visit-x does offer a VIP membership. This costs €9.95 per month ($11.16 as of March, 2019), and unlocks free access to select models' cams. It also comes with a handful of free videos each month, and a free, monthly show that's exclusive to VIPs.
Autobill warning: VIP memberships will automatically renew every 30 days until you cancel your membership. Furthermore, your account balance will automatically "recharge" if you're in a paid chat and run out of funds. You won't get any notification for this, and the minimum "buy-in" is €30.00 ($33.65 as of March, 2019).
Model Manifest
There are over 36,000 models on Visit-x. At the time of this writing, 156 of them were currently streaming. 153 of these were solo females, and 3 were trans women. Most of the models speak German, although about half of them also speak English.
Models can be filtered using the Filter button on the top right side of the page. You can use it to sort models by age, ethnicity, body type, hair color, language and more. Multiple tags can be selected, so you can search for English-speaking women aged 18-29 with small tits and shaved pussies.
This is a great site for straight men and gay women who speak Russian, or who don't care about understanding the model. Since 100% of Visit-X models are female, straight women and gay men won't find anything here to wank to.
While there are some male models on the site — just over 1,200 — none of them were online at the time of this writing. Visit-x is made primarily for straight men, or for lesbians who like to watch another girl get off.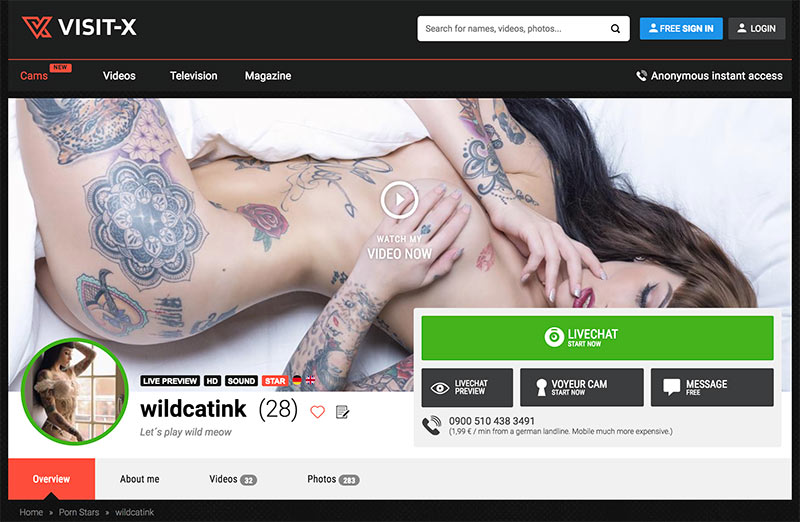 Fucking Features
Like most cam sites, Visit-x has some other features that set it apart from the crowd. These include:
Group and voyeur shows at a per-minute price.
Videos and image galleries available from individual models at the prices they set.
Model profiles with preview images, user reviews, awards, and a short bio.
Verified flag for HD models.
24-hour live-stream service available for an additional monthly fee of €4.99.
Ability to add models to a favorites list.
Optional browser notifications for when your favorite models come online.
Free softcore livestream — basically, PG-13 "porn".
Free sex and dating blog, and a free monthly magazine with profiles on up-and-coming models.
Users can leave reviews for models they've viewed.
Female, male and trans models filtered separately.
Users can join any show at any time.
No advertising.
Visit-X's Sexy Systems
When you first go to Visit-x, it will automatically register your location and ask if you want to translate the site to English. This won't work if you have location tracking turned off in your browser's privacy settings. In that case, you'll need to navigate to the bottom of the page, click on the German flag, and select English from the dropdown menu. Alternatively, you can use Google Chrome to translate the site for you.
On the site's main page, you'll see tiled preview images of active models. By default, only females will be displayed, and the most popular model will have an extra-large preview tile. Mousing over a tile will display tags on the model's image, letting you know whether they have sound and whether or not their stream is in HD.
Clicking on a model will bring up their profile page, which will have links to their live show. You can either join the regular chat, or join as a voyeur to view their stream at a discounted price without having access to the chat. If the model offers a free five-second preview, you'll see a link for that as well.
Trying to enter a show will bring up an overlay prompting you to join the site. If you're already a member, the overlay will instead tell you that you need to add money to your account in order to view the live stream. Once there's money in your account, you're ready to join the show!
Further down the model's profile, you'll find image galleries and videos for purchase from models who have them available. Prices for videos range from €1.99 to €12.99, depending on the length of the video and the model's settings.
The mobile version of the site is well-designed, with the tiles collapsed into two columns to fit the narrower screen. There's a small overlay on the side that offers a free video, but the overlay disappears if you have a membership. There's no advertising on Visit-x.
The majority of the cams are in HD, and Visit-x actually has a verification process with a special profile badge for HD models. Even non-HD models seem to have a minimum resolution of 480p. Unfortunately, a large number of models don't have any sound, which is a baffling decision for an otherwise excellent site.
Cam Climax
Pros:
Reasonable prices charged in real currency
High video quality
Model filter to fine-tune your selection
No advertising
Well-designed mobile site
Cons:
No free content whatsoever
Relatively small number of models
A lot of models don't have any sound
Visit-x is a well-designed site with most of their streams in HD. There's no free content, but the paid chats are high-quality as long as you stick with models who have sound. Unlike some foreign sites, a lot of the girls speak English as well as German. There are plenty of cam sites with more models, but if you have a fetish for German girls, Visit-x is a good place to spend your porn budget.
Visit Visit-X