MyFreeCams Site Review
MyFreeCams is one of the largest and most-active webcam sites around today. Founded in 2002, it's also one of the original players in the webcam industry. It should not be surprising that this translates into a massive model catalog (currently over 200,000), as well as some 20 million registered members. MyFreeCams, or MFC, offers several different paid show types, in addition to the titular free chats – which can be fully explicit if the model chooses, working for tips. There are a number of personalization options that make the site unique in terms of interface, too. It's also one of the most popular sites, ranking in the top 1,000 globally across all categories based on traffic, and in the top 500 in the US.
MFC is run by its own holding company, MFCXY, Inc., founded by Leo Radvinsky of Illinois, USA. They operate a network of related sites and re-direct addresses that link to the specific relevant tags on MFC (e.g. MyFreeAsianCams.com), along with the adult site MyFreePaysite.com, and several co-branded sites with other adult content. However, as far as we know, there are no MFC white labels, and MFC is the flagship site of the company.
Myfreecam Models Online Now
Myfreecams Chat Costs
MFC features free, public chats that are open to unregistered guests or registered members at the models' discretion, in addition to premium members of the site. These may be simply public hang-outs where the model teases and tries to generate interest for a private show, or she may perform fully explicit shows for tips if she chooses. All the other, paid chat modes, as well as tipping, requires tokens. All 4 of the private show types have a set fee (tokens per minute) that does not vary from model to model.
You can purchase tokens via credit card, debit card, pre-paid Visa, MasterCard, Discover, or American Express gift cards, or PayPal. The packages and prices are the same regardless of payment method, as outlined below. The best deal is highlighted in green, and the worst in red.
| | | |
| --- | --- | --- |
| All Payment Methods | | |
| 200 Tokens | $19.99 | $0.100 |
| 500 Tokens | $49.99 | $0.091 |
| 900 Tokens | $74.99 | $0.083 |
Aside from the free chats, which are a good mix of teases and tip-based shows, there are 4 premium chat modes available. Cam2Cam features are also available in private and TruePrivate chat modes. In ascending order of price, the premium chat modes are:
Group Show, which allows 3 or more paying members to view a private show, which means the price per minute is quite economical
Spy/Voyeur Chat, where you can spy on a private chat, and see video and audio, but not the chat or Cam2Cam features
Private Chat, a traditional private one-on-one experience with a model, though it can be spied on
TruePrivate Chat, where you pay a bit extra for total privacy, no one can spy on the chat
The prices for each of these chat types are fixed by the site, and do not vary from model to model. However, what each model does in a tip-based free chat can vary considerably – many have set tip levels to reach in order to perform certain acts. The premium chat modes' prices are highlighted in the table below, along with what that works out to for a hypothetical 5 minute show.
| | | | |
| --- | --- | --- | --- |
| Private Chat | 60 | $5.46 | $27.30 |
| TruePrivate | 80 | $7.28 | $36.40 |
| Group Show | 10 | $0.91 | $4.55 |
| Spy/Voyeur Chat | 20 | $1.82 | $9.10 |
There is a premium membership option at MyFreeCams, but it does not cost anything extra and is not a subscription. Rather, upon any token purchase, an account is granted premium status for life. Then, there's a reward program, that awards rewards points at a rate of 1 per 10 tokens purchased. Various perks are available as reward points accumulate, and your rewards total (a good indication of how much you have spent in the past on the site) is visible to the models.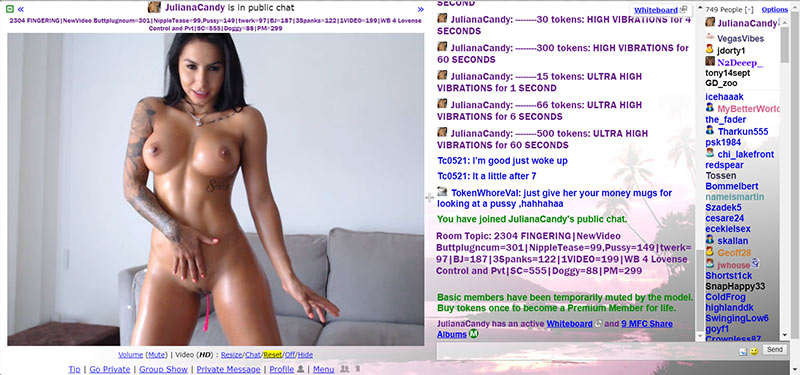 Model Manifest
MFC doesn't pretend to cater to all interests – it doesn't. The models are all female – there are no solo males, gay couples, straight couples, or transsexuals of any kind. You will occasionally find a few lesbian couples on the site, but 99% or more of the models are solo females. And they represent a wide range of looks, body types, ethnicities, and other characteristics. While you certainly get the studio types from major cam centers in South America and Eastern Europe, there are lots of independent individual cam girls available as well. Compared to many other cam sites, the US is probably disproportionately represented here. With such a large catalog of gorgeous girls and women, there's sure to be some that suit your fancy.
Of the 200,000+ models in the catalog, the average online population at any given time is around 1400. This is usually almost exclusively solo females. Many big-name pornstars also cam on the site, and can be found relatively easily. At any given time, there are usually 1 to 2 pornstars on cam. Some of the most well-known stars that have appeared on MFC in the past include Teagan Presley, Alexis Texas, Lexi Belle, Eva Angelina, Monique Alexander, Sunny Leone, Bree Olson, Sunny Lane, Aria Giovanni, and Julia Bond. Models who are online on a regular basis, and have logged in recently, include Ariana Marie, Cory Chase, Alicia Silver, Cody Lane, AdrenaLynn, and several others.
Myfreecams' Fucking Features
MyFreeCams features all the basics that you'll find on any veteran cam site, multiple private chat modes, and a highly customizable interface, among other features. These include:
Free chats with varying nudity and acts depending on model
Model tipping in any chat mode
Private chats
TruePrivate chats
Group shows
Spy/voyeur mode
Ability to watch multiple streams at once.
Fully-functional mobile version of the site (see our separate Mobile Review )
Interactive toys are fully supported and used by around 25% of models or more
Cam2Cam experiences are available in private chats
Model profiles provide basic biographical information, free photo galleries, approximate work schedule, and other information
MFC Share, a free video and photo hosting site, has a lot of great free content to enjoy
Contests, top models, suggested models based on your history and searches, trending models, and other categories are listed
Interface seems basic but there is a wealth of options available to customize menus, model criteria, and find the right cam girl for you
Sexy Systems
At first glance, you'd be forgiven for thinking MFC has a bit of an old-fashioned or over-simplified interface. It's definitely not as flashy or sleek as some of the other major cam sites. But looks can be deceiving. For one thing, that seeming simplicity means the site runs quite well, even when you're looking at a ton of model streams all at once. For another, it actually hides quite a detailed set of options for customizing your interface, that are just a few clicks away. You can really entirely change the models that are displayed, setup notifications, put filters and sorting criteria in play, and much more. The primary menu sidebar at right can also be customized to suit your particular preferences, to quite a large extent.
And you'd be forgiven for wondering where all the category headings or search criteria and filters are, too. You don't need those limiting factors here. There are literally hundreds of tags (models can create their own, plus there are a ton that are common) that models can use to describe their chats/shows, and you can explore through the tags list to find models who meet those criteria. You can also simply search in the direct text search, for any combination of attributes you choose. "Asian and Squirt and Lovense", or "Blonde and Tall", or "Teen and Anal and Brunette" – whatever you want! You can also browse models in the main feed, sort by a myriad of different options, check out the top chat rooms based on the number of viewers/users, look at your favorite models, check out recommended models, top models – and there are a ton more options for premium members, too!
In terms of how the site runs, we've never had any problems with loading or search speed. Same thing in chats – things work quite well. The frame rate and quality of the videos are dictated by the models' cams and equipment, with many using HD cams, having good quality audio, and fairly high-quality full-screen video. Of course this varies by model, but the site seems to run just fine – even in chat rooms with 1,000+ people in them at once. The chat interface is pretty straight-forward, and video can be fully resized to your preferences. Tipping options, private, group shows, and so on are all easy to access and navigate from within the chat interface.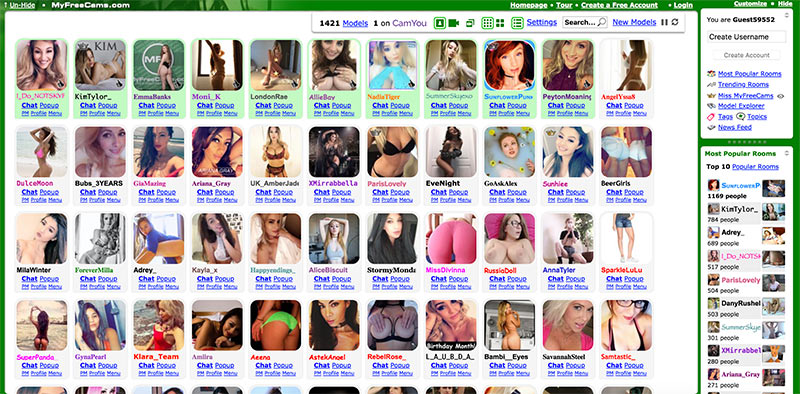 Cam Climax
Pros:
One of the largest model catalogs of any cam site around today, all women
Nice mix of cam site features, customizable interface, and other perks
Tip-based shows can provide a lot of relatively low-cost cam content for users
The most expensive tokens work out to $0.10 each, so mental math on costs isn't too hard (though your dick will be)
4 different paid show types with fixed prices
Automatic premium membership upon any token purchase
Worth noting that they pay out over 60% of revenue to models, which is why many models prefer working for MFC compared to many other sites that pay far less
Cons:
Private show costs can add up quickly
Content limited to female models
Private and TruePrivate chat costs on the average to above average range compared to other sites (though Group and Spy/Voyeur are below average)
MyFreeCams remains a webcam juggernaut, with some 30 million unique visitors a month. The model catalog of gorgeous women of all types is 200,000 strong, which makes it one of the largest around today. With solid technology and a lot of customizable site options, various private chat types, explicit tip-based free chats, and all the other cam site features you could want, there's not much to complain about. Some of the hottest girls from around the world are on MFC, including various pornstars and celebrities. A robust tagging and searching system means you can really hone in on models that appeal to you. And with many premium membership features like private messaging, you can even pay for Skype-based private chats, Snapchat access, and more to some of your favorite models, all through the MFC interface and token system. Tokens are reasonably priced, too. With fixed prices on private shows, it's a bit easier to manage your spending than on some other sites. While Private and TruePrivate shows are average to above average in cost, Group and Spy/Voyeur shows are actually cheaper than on many other sites. Plus, there are tons of tip-based shows where you can enjoy a sexy experience for relatively low cost. If you're into girls and webcams, then MFC is an absolute must-visit. There's a reason they've been around for 16 years and continue to grow…so check our MyFreeCams, and something of yours will start growing, too.
Visit Myfreecams