BongaCams Site Review
This is the European counterpart to MyFreeCams. It borrows the focus on free group chat, customizable profiles, and AIM-style emotes. While it has a slightly smaller selection than MyFreeCams, Bonga has an impressive number of beautiful performers. It also features a cleaner, more modern site design. All told, BongaCams offers a fantastic value to both free and paid users.
Pros
Large number of models
Amazing free value
Free Tokens on signup
Great value on spy and group chats
Cons
Less english-fluent models
Expensive private chat
How much does BongaCams cost?
Signup is free and it gets you access to group shows and chat - no catches at all. BongaCams provides an excellent value for free users. As with MyFreeCams and some other freemium cam sites, the goal for models on BongaCams is to create public shows with large numbers of users who will tip. While paying customers create the incentive for the show to continue, free users get to enjoy the ride with no charge. There is alway the risk that a model you're enjoying will jump into a private chat, but this is rare since models usually make more off of these huge group shows than they can in private. This is great for free users or those not interested in going private, but it does mean that the cost of private shows is high as a result. Most models on Bonga will charge between $2.50 and $5.50 per minute, which is fairly high. But this doesn't mean the value is poor for paid users. You can have a ton of fun with $20 worth of tips on BongaCams. What would normally amount to 4 minutes of private chat can be stretched to hours of enjoyment for savvy users.
Tips and one-time transactions cost Tokens which are sold in packages ranging from €2 - €75. Yes, that's in euros. BongaCams is probably the most popular free cam site in Europe right now. For americans that price range is about $2.25 - $84.39. Most sites offer a discount for larger purchases, meaning tokens cost less if you buy more in bulk. For BongaCams the discounts get pretty steep with larger purchases, so if you really enjoy the site it's a good idea to make a big purchase once and use the tokens slowly for a long time. The dollar values of Tokens range from $0.25 - $0.14. That's a huge difference between the smallest and largest packages.
The most popular use of tokens is tipping in group shows, but you can also spend them to unlock pre-recorded clips from your favorite models, spy on private shows, enjoy a full private show yourself, or enter a group private show. That last one is less common - it's a small group of users who each contribute about $1.20 per minute to split a private show between 4 or 5 people. While the private show rates are very high, the private group and spy shows are reasonably priced. Still, the most fun you're likely to have is throwing tips into a public show.
If you do buy Tokens - any amount of Tokens - you'll get the added benefits of a premium membership and 5 free tokens as a bonus. And if you want to go really crazy you can get a VIP membership for a recurring monthly charge. However, we can't recommend this service, as the bonuses don't seem to be worth the approximately $20 per month recurring cost.
BongaCams offers a huge variety of ways to pay. There's the standard credit cards, SMS, PayPal, Bank Transfer, Paysafecard, and even Bitcoin. You can even choose your billing company (all of them are perfectly safe). Be aware that your chosen payment method and biller can affect the pricing a bit.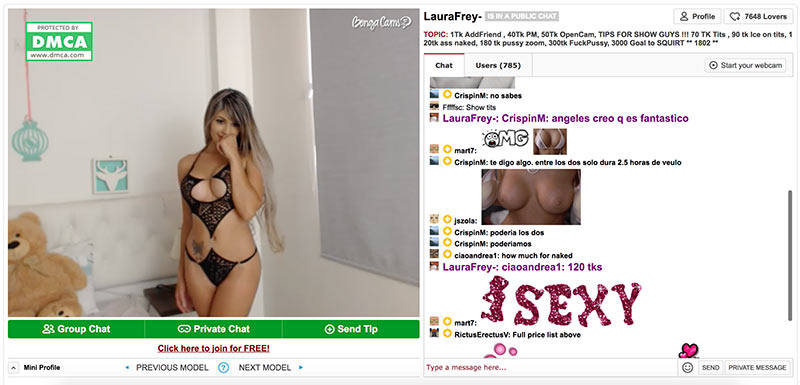 What are the models like on BongaCams?
Most of the models broadcasting are European, specifically eastern European and Russian. These are countries with low average incomes but good internet infrastructure where cam girls can do very well and even make camming their full-time profession. These girls are very beautiful and tend to speak good english so communication isn't a huge problem. However, there is always a bit of a language barrier. They're going to understand you, but the conversation probably won't flow as freely as it might with a native english speaker.
While East Europe is definitely the best-represented region there are also models from Asia and South America. Western models are there, but they tend to be in the minority. Bonga also lets couples, men, and trans models broadcast. Women tend to number between 400 and 800 live performers - a very impressive amount. The number of guys is high for a mixed-gender site. There may be between 70 and 100 men at any time. Trans and Couples lag further behind with maybe 25 broadcasters live at a time. While bonga has great male and female solo performers, I'd recommend other sites for those into couples or trans models.
On BongaCams you'll find both amateur and studio models. Overall the performers are friendly, eager to please, and happy to fulfill the requests of paying customers. And if you do feel more comfortable in a language other than english then you'll probably be able to find a model who's fluent as well.
While BongaCams is clearly targeting the same freemium users as MyFreeCams, there is less of a sense of community here. If you really want to get to know your models, I'd recommend MyFreeCams first. But if you just want to see a great show for free and close the tab after then Bonga is a great choice as well. Since both are free to sign up with you may as well test drive both sites and see what you like the best.
What are BongaCam's features?
The feature set on Bonga is pretty standard, but there are a few standouts. Your chat options include public group chat, spy shows, private group chat, and full private chat. Those are listed in ascending cost. The main product is the free chat where you can spend tips or watch for free. A Spy Show is basically a window onto someone else's private show: you can't direct any of the action, but you get to enjoy it. A private group chat is where you and a handful of other members agree to pay a reduced rate for a semi-private show. All group members can speak and interact with the model. Private chat is what it sounds like - just you and the model together. Lastly, full private excludes other users from spying on your chat session via a spy show.
As mentioned, the site's focus on free service means that models charge high prices for private shows. While the group and spy shows are a great deal, they still cost as much as private shows do on other competing websites. Though Bonga Cams has a full suite of offers, it really is best to spend your money either in tips or spy shows. Of course if there is a special performer you connect with then a high cost-per-minute may be worth it, but there are better options in sites like LiveJasmin or ImLive which focus on private chat.
One feature we really appreciate is how readily visible the prices are. Many cam sites try to obscure the cost of different chats until right before you hit the 'confirm' button, but on Bonga the prices are easily visible. The site also displays your remaining tokens while you're in chat so you can keep an eye on how much you're spending. It's a simple feature, but this transparency about the cost of different services is very refreshing.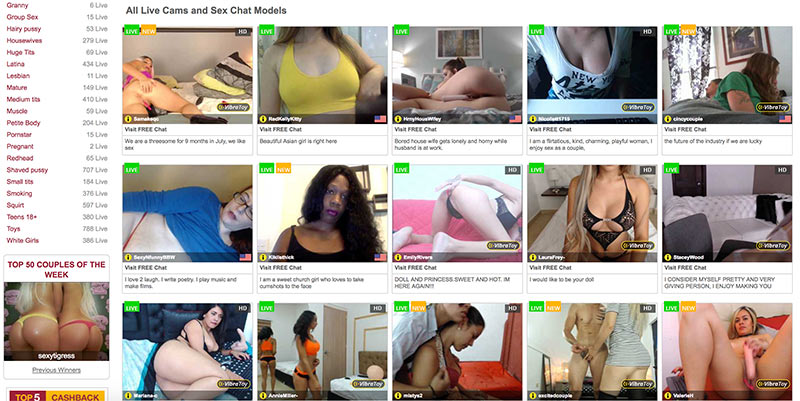 How well does BongaCams function as a website?
Bonga has a lot of content. Thanks to a simple, to-the-point web design it's all easy to access quickly. Tabs switch between girls, guys, trans, and couples streams. On the left a category selection lets you further refine your search. It doesn't look fancy or overly modern, but we found sorting through the numerous feeds was easy and intuitive. We also experienced no issues loading the cams or seeing feeds stutter. Overall BongaCams is very smooth and efficient.
The site includes customizable profiles and a busy chat window filled with emotes. The style is very reminiscent of MyFreeCams. While the chat window isn't overly hideous it is a bit distracting. It would have been nice to see Bonga keep the text and emote styles more consistent with the straight-forward design of the rest of the site.
The final word on BongaCams
Most of our top choices are old sites which have been growing since the early days of the sex cam industry. BongaCams is an exception. This site began in 2012 and since it's founding has been steadily adding features and models. While it got off to a rough start, it's currently one of the largest sex cam sites around and provides an amazing value for users - both free and premium. While some of it's style is copied from MyFreeCams, Bonga's clean design and gorgeous models set it apart.