Shagle - shagle.com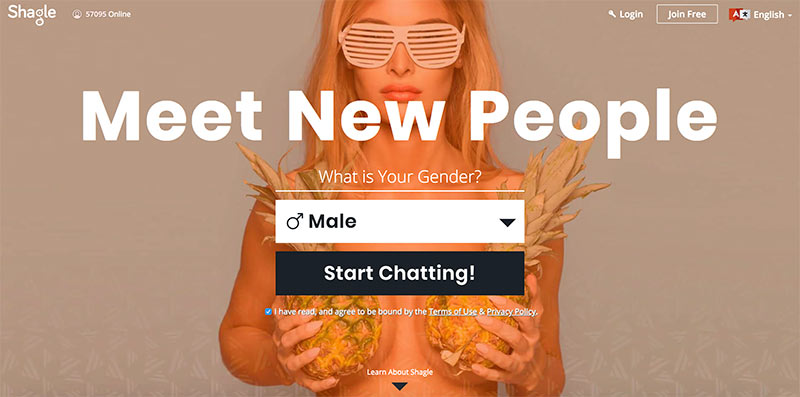 Shagle.com was created in August, 2015 and has quickly become one of the most popular chat sites on the web. They appear to be independently-run, although the site's trademark is owned by Brentwood Holding Group Inc, owners of nudelive.com, pornoroulette.com, instasex.com, and their affiliate gay chat and cam sites.
As of December, 2018, Shagle is the 69,332nd most-visited website worldwide, the 49,023rd most-visited website in the US, and the 6,135th most-visited website in the arts and entertainment category, which is where it's officially listed. Its Alexa ranking is 15,116, and its US Alexa ranking is 3,797. 12% of the site's users are from the US, 10% are from India, and 7% are from France.
Shagle Chat Costs
Shagle.com is not a traditional cam site. It's a chat site, which connects users randomly with other users. For this reason, there are no per-minute charges. Users can start chatting with no membership, or with a basic, free membership. A webcam is not required, and the site does have a text chat, but the site allows either user to click "next" at any point to move on to another user, so expect to get "nexted" quickly if you don't have a cam running. Besides, for this site, having a cam is part of the experience.
While a basic Shagle membership is free, a paid, VIP membership costs $17.99 per month, or $4.99 per week. Paid members get an ads-free experience a gender filter for random matches, a location filter to show only cams from the user's region, the ability to reconnect with previous matches, and a shiny VIP badge that displays in chat rooms. From what we saw, this gender filter is probably the only way you're going to see any useful number of female cams. VIP members also unlock the ability to send virtual gifts to other members.
Autopay Warning: Shagle.com will continue to bill your card on a weekly or monthly basis, depending on the length of membership you chose, until you turn payment off in your settings.
Model Manifest
Shagle has over 3 million monthly users at the time of this review, with 39,000 currently online. However, the site is crippled by two things: virtually all of the cams are male, and filtering matches by gender is only allowed for VIP accounts. Out of 100 cams we viewed, only 3 were female.
This site may have an upside for gay users. While it is not a gay site, and most of the men appear to be straight, there do seem to be a fair number of gay men as well. Straight women may also enjoy this site, if for no other reason than for the sheer volume of straight men. On the other hand, since there appear to be very few women on this site, this site has little to offer straight men or gay women.
Shagle's match system places a user in a pool of 100, so if you click "next" more than a few times, you start seeing the same users. We tried closing the browser, restarting the computer, and resetting the router, and kept getting placed in the same pool.
A surprisingly high number of models were bathroom ceiling vents. We also saw two guys on the toilet, three flaccid dicks, six guys jerking off, two guys driving their cars, a woman drinking wine at eight in the morning local time, a woman in bed with a crack pipe, and more walls, corners and ceiling fans than we could count. Were we entertained? We were. But our lotion remains untouched. Our tissues remain unused.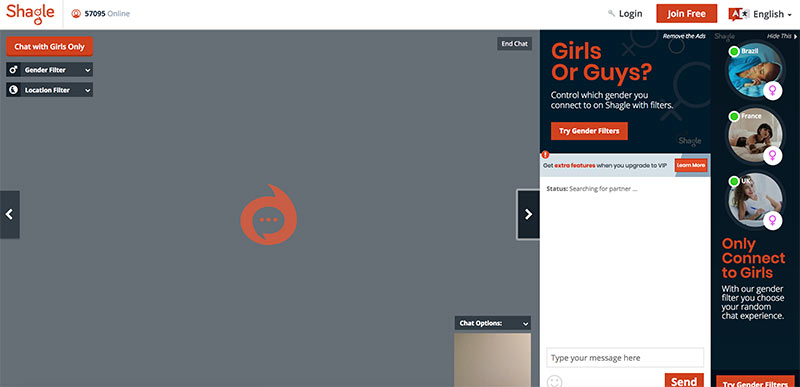 Shagle's Fucking Features
Shagle will be familiar to users of chat sites like Omegle and Chatroulette.
Free, anonymous, instantaneous chat for anyone with a webcam.
Filtering by location and gender available for VIP members.
Users can end chats at any time.
Advertising is unobtrusive, and only promotes Shagle's premium services.
Mobile version works well on Android, but is not supported on iPhones.
VIP members can send gifts to other users.
Sexy Systems
Shagle.com is one of the most minimalist sites out there. Select your gender, then click the button to start chatting. Chat rooms feature video and text chat, and the ability for both users to end the chat at any time. Clicking the right arrow on the chat will switch to another chat room. A VIP membership allows users to filter by gender and location, but there are no other filter options at this time. There is also no search option. Matches are totally random, so if you do find someone you enjoy chatting with, you'll need to decide whether it's worth exchanging contact information for another platform.
There is no option to record or download chat sessions, although given the two-way nature of this site, we consider that a feature, not a bug. Video streams load quickly on Shagle, and quality varies from high-end webcams to chromebook cams and cell phones. The audio quality is also hit-or-miss. The Android version of the site loads quickly, and works well on most Android phones. At this time, there is no iPhone support for Shagle.
Conclusion
Pros:
Site is free, users can start chatting instantly
Unobtrusive ads
Android support is seamless
Cons:
Filtering is disabled for free users
Average video quality is poor
Many cams feature empty rooms or closeups of dicks
Shagle is a minimalist site that will get you chatting with strangers in about ten seconds. It has a relatively high number of users, but its matchmaking system leads to a repetitive experience. Video quality is also on the low end, although some cams do look good. For gay men or straight women, it may be worth giving it a go simply because the user base is predominantly men of all orientations. For others, this site is entertaining, but not worth fapping to.
Visit Shagle