Sexcamly - sexcamly.com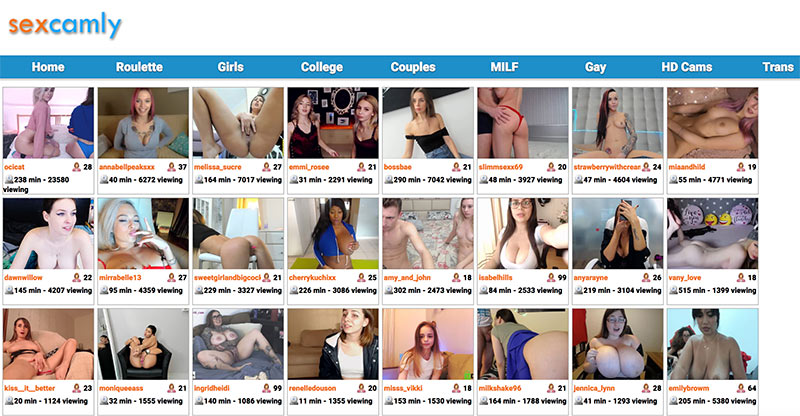 Sexcamly features a wide variety of adult performers who interface with customers via livestreaming. This makes for a more interactive experience than most typical porn websites, as users are able to communicate with performers directly and make requests during shows. Sexcamly is free to use, although users are encouraged to buy virtual tokens that they can use to tip performers and to buy private shows, among other options.
Sexcamly.com is independently owned and appears to be based out of Las Vegas, Nevada. As one of the smaller websites in the adult webcam industry, they are not part of any major network, and as a result, lack the resources and connections of bigger competitors, such as LiveJasmin. This likewise means that Sexcamly has a somewhat smaller library of content to choose from. With a global Alexa ranking of 142,224, Sexcamly is not a particularly popular website. Interestingly, the majority of its traffic comes from the Czech Republic, where it is ranked significantly higher, at 5,300.
Sexcamly Chat Costs
Using a freemium business model, Sexcamly allows visitors to view explicit webchats for free. However, users are encouraged to buy virtual tokens, which the website uses as a form of currency, in order to tip models during free livestreams and pay for private shows. Users must register for a free account to buy tokens which range in price from 100 tokens for $10.99 to 1,000 tokens for $79.99. Acceptable payment methods include credit cards, PayPal, wire transfers, and even cryptocurrency, although credit card transactions are limited to 5 per day for new users, with additional transactions allowed after account verification with ID.
The price of services offered by performers is not standardized, and varies from model to model. Performers may choose to offer any range of services and price them at their own discretion, meaning there is a wide variety of what is offered and how much it costs. A typical model may offer basic services, such as a shoutout during the livestream, for as low as 10 tokens, and only offer explicit services for far more, such as 1,000 tokens for private pictures and 10,000 tokens for private Snapchat or phone sessions. Because of this pricing model, Sexcamly can get very expensive quickly if users aren't careful.
In addition to this, Sexcamly offers Premium accounts, which users can upgrade to for a fee of $19.95 a month. Premium accounts come with a number of perks, including the ability to message performers directly, to browse the site ad-free, and to view full screen videos. The amount of benefit is limited, though, and users may find the fee of $19.95 a month to be far too expensive given the lack of benefits.
Credit or debit card purchases are the most economical, with credits working out to be roughly 5 to 6 cents each. Google and Apple Pay have slightly higher fees, and hence higher costs for credits. How does this translate into costs for the different services on the site? Sexting uses a fixed rate of 10 credits per message from the model, but only in premium mode (explicit content). Chats start out as free, and you're informed before moving to a premium mode. Voice chat uses a per-minute rate of 28 credits per minute. Video chat uses a per-minute rate that is variable and set by the models, averaging 90 to 100 credits per minute.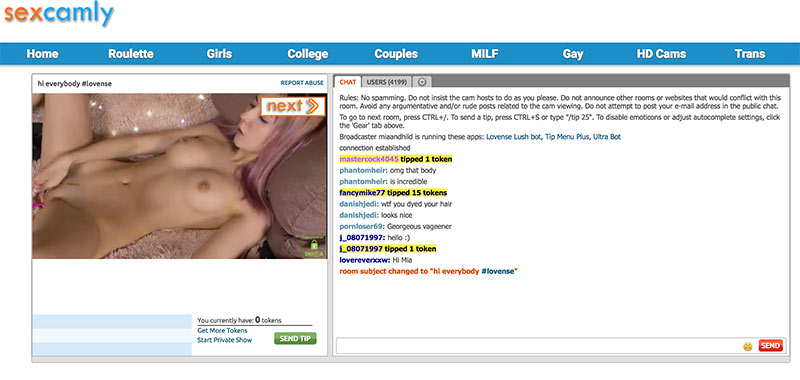 Model Manifest
Sexcamly, being a smaller website, has a limited number of videos and performers available, especially when compared to larger competitors. Despite this relative lack of content, however, Sexcamly has a fairly wide variety of content available, with female models, male models, trans models, and couples all available for users to view. Likewise, Sexcamly features a number of popular performers, such as Emma Choice. While it may not be the best choice for users looking for the most options possible, Sexcamly's library is serviceable for someone looking for a basic amount of content with decent variety.
Sexcamly's Fucking Features
Sexcamly hits all the major markers that any decent cam website needs to be successful, with a variety of features available including:
Free, explicit shows
Private shows
"Spy shows", where users can view private shows (but not interact) for less cost
The ability for users to start their own livestreaming channel
Bookmark system to keep track of favorite performers
Sexy Systems
While Sexcamly may not be the best looking or well-designed site out there, it works well enough, with no notable lag issues to speak of. The quality of video varies according to the equipment used by individual performers, but as most professional performers take their job seriously, users shouldn't worry about the lack of high quality video available on the website. The chat feature, again, is not the prettiest to look at, but it works well and gets the job done, with no major issues that would otherwise turn off potential customers.
Cam Climax
Pros:
Many free shows are explicit
Decent variety of performers
No major performance issues
Cons:
Fairly small number of total performers
Shows can get very expensive, very quickly
Premium account isn't worth it
Overall, Sexcamly is a small but effective website that gets the job done. There's nothing about it in particular that stands out, but for users looking for a basic cam website, Sexcamly offers basic functionaity for free without much fuss.
Visit Sexcamly