Runetki2 - rt.runetki2.com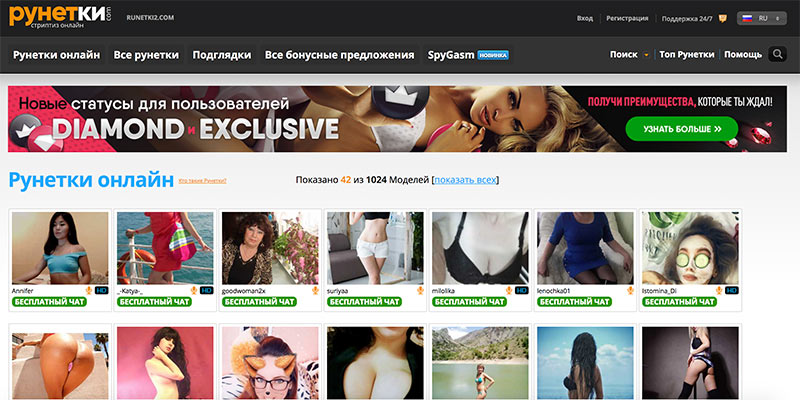 Runetki2.com is Russian cam site that was registered in March of 2018. The site is owned by BongaCams, and is basically the Russian version of the site, with the same prices and a lot of the same features. That said, this is not a mirror site. It has its own membership with its own list of models.
As of March, 2019, Runetki2 is the 10,033rd most-visited website worldwide and the 588th most-visited website in Russia. Its Alexa ranking is 15,755. 77% of the site's users are from Russia, 6.6% are from Ukraine, and 2.5% are from the US.

Runetki2.com Chat Costs
Anyone can watch public chats on Runetki2, but you'll need an account to access certain features, like private or group shows. You'll also need one if you want to tip models, since an account is required if you want to buy tokens. Signing up takes just a few seconds, and technically doesn't require an email address. However, if you don't have an email address on file, you won't have a way to recover your account if something goes wrong.
The site says you'll get 100 free tokens if you sign up, but it doesn't actually deliver on that promise. That said, tokens are relatively inexpensive, and come in a variety of packages depending on your payment method. Runetki2 accepts credit cards, PayPal, and 65 different cryptocurrencies. Here's a breakdown of the different packages, with the best value highlighted.
| | | |
| --- | --- | --- |
| Credit Card | | |
| 17 tokens | $2.99 | $0.176 |
| 54 tokens | $7.99 | $0.148 |
| 139 tokens | $19.99 | $0.144 |
| 248 tokens | $29.99 | $0.121 |
| 440 tokens | $49.99 | $0.114 |
| 661 tokens | $74.99 | $0.113 |
| PayPal | | |
| 17 tokens | $2.99 | $0.176 |
| 49 tokens | $7.99 | $0.163 |
| 104 tokens | $19.99 | $0.192 |
| 193 tokens | $29.99 | $0.155 |
| 344 tokens | $49.99 | $0.145 |
| 514 tokens | $74.99 | $0.146 |
| Cryptocurrency | | |
| Any amount | Variable | Variable |
Unlike most cam sites, the models here don't set their own rates. Costs are the same, whether you're watching a brand new amateur or an established star. There are four types of shows on Runetki2.
Group chat lets everyone watch the model and participate in the chat, as long as they're paying the per-minute rate.
Private chat gives you exclusive access to the model's chat room, and lets you participate in Cam2Cam shows with models who are willing to do that.
Spy show lets you watch a model's cam while she's in private chat, but you can't participate in the chat or Cam2Cam.
Full private chat is the same as a private chat, but does not allow other users to spy.
Here's how the shows break down in terms of cost:
| | | | |
| --- | --- | --- | --- |
| Spy Show | 7 | $0.79 - $1.34 | $3.96 - $6.72 |
| Group Chat | 15 | $1.70 - $2.88 | $8.48 - $14.40 |
| Private Chat | 30 | $3.39 - $5.76 | $16.95 - $28.80 |
| Full Private Chat | 45 | $5.09 - $8.64 | $25.43 - $43.20 |
Even with the cheapest token packages, you're paying about as much for a private chat here as you would pay on a top-tier site. However, you're not going to see truly insane rates like you will for top models on sites like Livejasmin.
Model Manifest
At the time of this writing, there are 803 models currently streaming on Runetki2. By default, they appear in order of popularity. There's no Categories button on the page, so you'll need to use the advanced search feature to sort models. Thankfully, there 172 different categories to choose from, including age, hair, body type, ethnicity and fetishes. You can select multiple categories to find models who meet all your criteria. For example, you can search for a 25-30 year-old blonde model with big tits and a big ass who's into ass to mouth.
In total, there are over 37,000 models here. The vast majority are Russian or Ukrainian, and most of them speak their native language in chats. This makes sense, since most of the site's users are Russian, but it can be disappointing if you're an American who's used to the entire internet being in English.
This is a great site for straight men and gay women who speak Russian, or who don't care about understanding the model. Since 100% of Runetki2 models are female, straight women and gay men won't find anything here to wank to.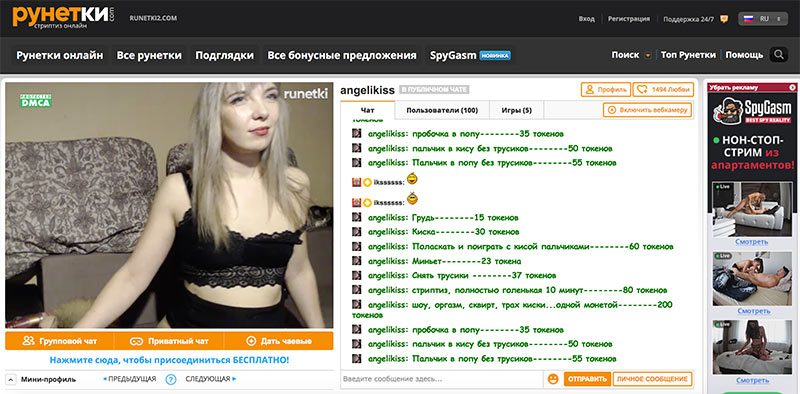 Fucking Features
Beyond the types of shows we've already mentioned, Runetki has several other features. These include:
Free public shows from some models.
Chat interface is intuitive and easy to use.
Cam2Cam with models who are willing to participate.
Model profile pages with fetishes, their regular schedule, Amazon wish lists, and more.
Video and image downloads from some models, at a low price.
Advanced search feature lets you combine multiple categories to find a girl who's a perfect match for your kink.
Model videos remain open in an overlay if you want to browse other models while you're watching.
Optional 2-step verification for added security.
Minimal advertising once you've bought your first token package.
Ability to send private messages to models and other users.
Ability to add models to a favorites list.
Runetki2's Sexy Systems
By default, the site is in Russian. Unless you can read the Cyrillic alphabet, the first thing you're going to want to do is click the little Russian flag in the top right corner of the page, which will bring up a dropdown of an American flag. Click that, and the site will change over to English.
Runetki2's main page displays thumbnail images of all active models, sorted in order of popularity. Mousing over the thumbnails will turn it into a small preview of the model's current stream. If you like what you see, just click the thumbnail and you'll be into the chat room. There, you can chat with the model, or click the links under her video to start a group or private chat. You can also click her name to view her profile. From there, you can download pre-recorded shows — for a fee — or simply learn more about her likes and dislikes.
If you're always looking for more choices, you can enter a girl's chat room and go back to the main page. Her video will stay open in a small Java overlay at the bottom of the screen, and you can jump back to her chat by clicking on it. Once you enter another model's room, this overlay will disappear.
The mobile site works well, and collapses the thumbnail-based main page into a more compact tile-based layout. The site will still display in Russian, so English-speaking users will want to click the little hamburger menu at the top of the screen. The last line in that menu will show a Russian flag. Click it, and you'll have the option of switching to English. Alternatively, you can just let Google translate the page for you. Their translate AI may not be handling international diplomacy just yet, but it's more than good enough for a porn site.
The models here all have good quality video, although most of it isn't in true HD. Still, 480p isn't bad, and it's as close to high definition as you'll find on many streaming sites. The sound is another matter entirely. A lot of these models seem to have their mics cranked up way too high. It's one thing if you can't understand what a girl is saying because she speaks a foreign language. It's another thing entirely when you can't understand her because her mic is constantly clipping, and her moaning sounds like the monster in a horror movie.
Free users are going to see a lot of ads, but they're mostly for Runetki2's premium packages. If you actually sign up and purchase a token package, the only ad you'll see is a small banner ad for BongaCams, SpyGasms, or other BongaCams-owned sites.
Cam Climax
Pros:
Thousands of active models
Some free content in public chats
Prices are lower than other sites charge for their top models
Mobile site is easy to use
Cam2Cam and video downloads available for paid members
Cons:
Most models don't speak English
Lots of advertising for free members
Prices are higher than other sites charge for their new models
Runetki2 is a well-designed cam site with reasonable prices. If you're from a Russian-speaking country, or if you speak Russian, you'll find lots to enjoy here. For people who only speak English, there are better sites out there. If you like the features and prices, take a look at our BongaCams review. It's basically the same thing, but in English, and with a few extra features.
Visit Runetki2.com