Omexxx - omexxx.com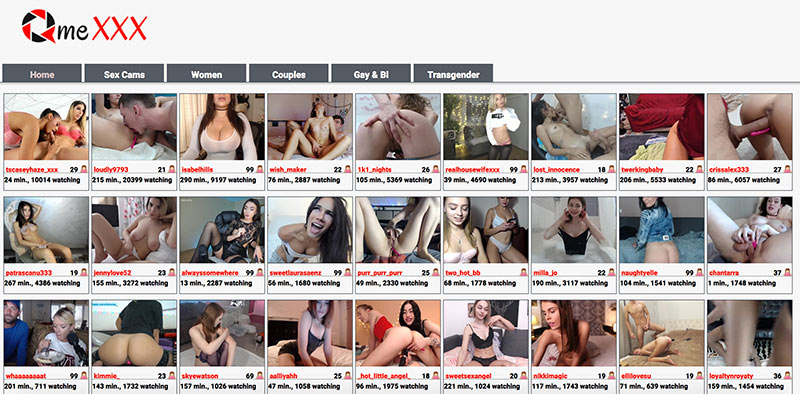 Like many other free cam websites, OmeXXX offers a wide variety of live webcam performers which viewers can watch. OmeXXX uses a freemium business model, meaning that initial chats are open for anyone to view without paying for or registering for an account. However, users are highly encouraged to pay for premium content, such as private shows, and most explicit content requires payment.
OmeXXX appears to be independently owned, and is not affiliated with any larger adult websites in a similar niche, such as LiveJasmin. This means that OmeXXX has a significantly smaller offering than similar websites. Although the front page of the website advertises itself as "one of the very best chat sites on the web", the numbers available would indicate that OmeXXX is not particularly popular or unique. With a global Alexa ranking of 366,436 and a ranking of 29,851 in Mexico, the country where it is the most popular, OmeXXX is not a particularly prominent video chat website.
Omexxx Chat Costs
Like most free adult cam websites, OmeXXX allows visitors to view much of its chat content for free, while encouraging users to spend money on performers, who set the costs of the services they wish to provide for viewers. These prices can range widely by performer and act, with basic services costing relatively little, and more explicit actions costing far more.
The website uses digital tokens as a form of in-house currency, and users must register for a free account in order to purchase tokens. Tokens range in price from $10.99 for 100 tokens to $79.99. Users are able to "tip" performers with tokens. Performers often set "goals" for tokens, promising increasingly explicit content if the goal is met, with the community of users watching the livestream pooling their resources together to meet this goal.
In addition to this, users may upgrade their free accounts to premium accounts, at a recurring cost of $19.95 per month. Premium accounts give the user a number of additional features, such as the ability to view multiple cams at once, and an ad-free browsing experience. Additionally, users can get tokens by starting their own cam channel and getting tips from other users.
Users who sign up for premium accounts for the first time are additionally given 200 free tokens, at a value of approximately $20.99. Users are also required to have tokens in order to actually chat, although they don't need to spend any of those tokens in order to do so. Users may purchase tokens and upgrade their accounts through a variety of means, such as credit cards, PayPal, wire transfer, and even cryptocurrency. Credit card transactions are limited to 5 per day, until the user verifies their account by sending in a copy of their ID.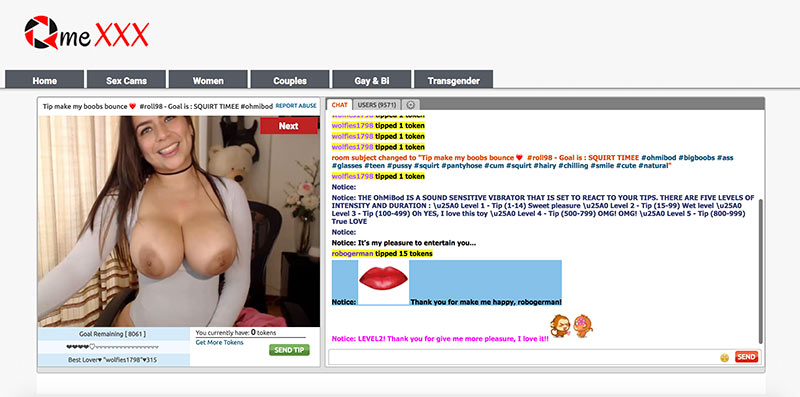 Model Manifest
As a much smaller cam website, OmeXXX doesn't have nearly the amount of choice that larger, more popular stations of a similar nature do. As a result, most of the performers available are amateurs from around the world, with few popular and notable performers making an appearance on the website. While this may not necessarily be a bad thing, it can lead to an inconsistent quality in livestreams, as amateurs may not be as invested in the technology they use to communicate with their audience, leading to potentially poorer-quality chats.
While the total offering of video chats is smaller than that of many big-name competitors, OmeXXX does offer a fairly wide selection of categories to choose from, with Female, Male, Trans, and Couple chats all represented. Additionally, Mature chats are available for users interested in older (age 30+) performers, and users are additionally able to browse chats by age range (18-25, 35-50, 50+, etc), an interesting feature which many chat websites seem to overlook.
Omexxx's Fucking Features
OmeXXX is a very basic, bare bones chat website, and as such, doesn't offer much in the way of additional features. Users are able to start their own chat channels, enabling them to broadcast their performances to the world and earn money, and premium accounts allow users to access a small number of additional features, the most notable of which is the ability to "spy" on private shows for a reduced rate of tokens. However, for the pricey cost of $19.95, these features may not be especially compelling to users.
Sexy Systems
While OmeXXX is a very bare bones site, it runs fairly well, with no significant lag issues or other technological problems interfering with the experience. The website is not particularly well designed or easy on the eyes, but it is efficient and gets the job done. The quality of video chats varies depending on the equipment used by specific performers, with some chats displaying very high quality 720p or higher video, and others appearing to be recorded via a basic, poor resolution webcam. The chat interface, likewise, works very well, with no major issues preventing users from contributing to the video chat experience.
Cam Climax
Pros:
Easy to use, glitch free website
Good variety of ways to pay
Decent categorical selection
Cons:
Small number of total performers
Ugly website design
Often expensive
Premium account not worth it
Overall, nothing major stands out here, but in general, OmeXXX works well with little to no intrusive or annoying glitches preventing users from enjoying their video chat experience.
Visit Omexxx