Jerkmate - jerkmate.com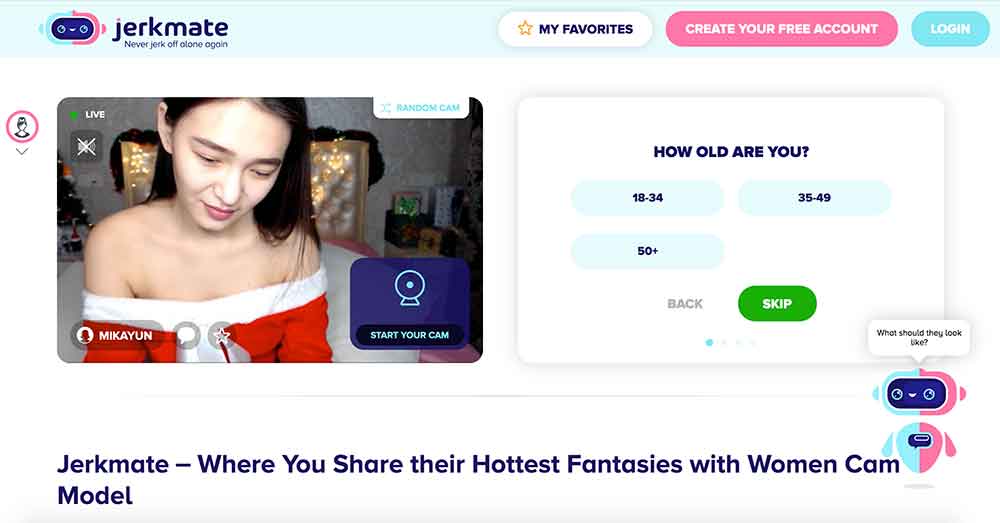 Founded in 2017, Jerkmate has quickly become one of the most popular porn sites on the web. It's currently the 43rd-highest ranking adult site in the US, and 131st overall. It's safe to say that people really enjoy wanking to their content. The basic concept is simple: instead of jerking off alone, you can jerk off with other people. Guys, girls, and everyone in-between will find lots of horny strangers.
But how well does the site actually work? And how does it compare to others? We're about to take a deep dive into everything Jerkmate has to offer. Here, you'll learn all about:
Jerkmate's overall design
How to create an account
What you can get for free
What you have to pay for
How the pricing works
What models you can expect to find
How well the mobile site works
Features
Jerkmate's goal is to mix the features of a traditional cam site with those of a chat site. In fact, there are essentially two versions of the site. Non-members get to switch between random cams with the click of a mouse. Sign up for a membership, and you get access to several additional features. These include:
Text chat and cam2cam sharing
The ability to tip models and make requests
Group and private shows
A personal favorites list
Private messaging with models and other users
Premium pictures and videos on model profiles
As you can see, Jerkmate has a lot to offer beyond the basic features of a Chatroulette-style site. But how does it actually work?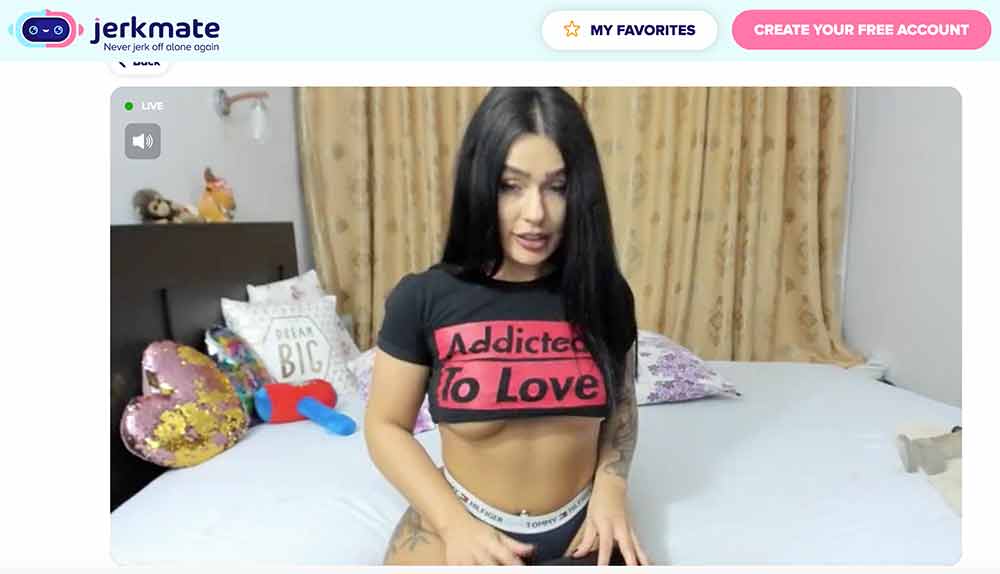 User Interface
When you visit many porn sites, you'll often get a list of recommendations. If you don't have an account or viewing history on the site, the "personalized" recommendations can be laughably wrong. If you're into black girls or Asians, you see a page full of white girls. If you're into models with some meat on their bones, you get a bunch of skinny ones. Jerkmate helps you avoid that, by asking you what you want to see. You select your preferences, and then you get started. There's even a cute little robot assistant that zooms around the screen. Unfortunately, the robot animation actually blocks some of the options, which can get frustrating if you want to click on something that's been blocked.
After you get done setting your preferences, you're paired with a random model. One thing we appreciated is that your cam is disabled by default. You have to click a large button that says "Start your cam" if you want to share video. On the top of each video stream, there's a small button that says "Random cam". Clicking that button will instantly switch you to a different model. And when we say "model", we're not kidding. While Jerkmate advertises itself as a roulette site, it's basically a cam site. Most of these people are professional models.
By default, the site will display female models. However, there's a button on the left side of the screen that lets you change your options. Click the button, and you can choose guys, trans models, or even couples. There are two additional buttons on each window: a chat button and a favorite button. The chat button lets you open a text chat window to get more personal without sharing your video. The favorite button will add the model to your own personal favorites list. But to use either of these features, you're going to need to sign up for a free account.
However, creating an account will redirect you to Jerkmatelive.com, an affiliated cam site. This site has a tiled interface that will be familiar if you've used Livejasmin or other similar cam sites. The tiles display a model's profile picture by default. Mousing over a tile will give you a preview of the live chat, and clicking it will open the model's room. From there, you can participate in text chat, send tips, or even ask the model to go private. You'll notice that when you view a video preview, you also get an audio preview. If you've ever lost your wood because a model was playing loud music, you'll appreciate this feature. And you can still filter models by category. Along the left side of the screen, there are several filtering options so you can find the perfect model for your fantasies.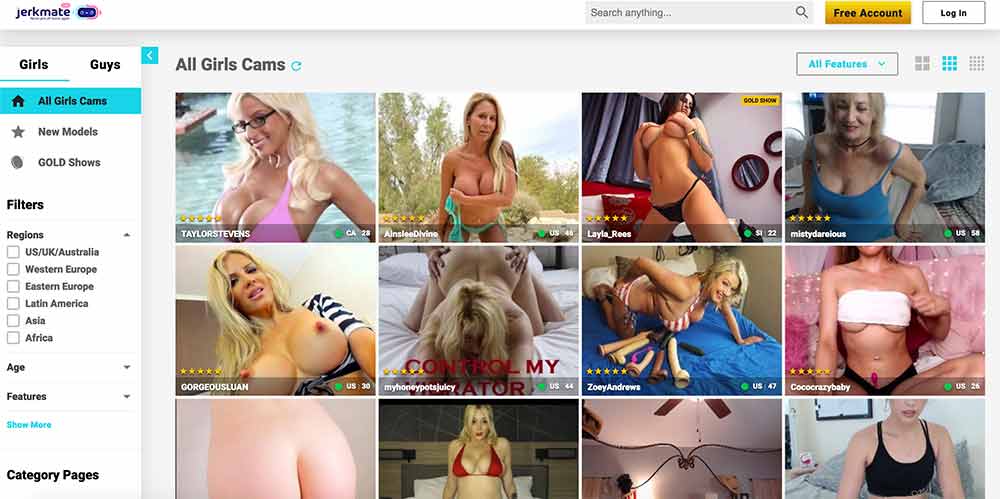 Accounts & Pricing
There are two tiers of account on Jerkmate: free and paid. With a free account, you get access to public shows and text chat. Plenty of the models are happy to get down and dirty and jerk off in public chat. But at the end of the day, a free account only offers a couple advantages over no account at all: the ability to choose a specific model, instead of being randomly matched, and the ability to save your favorite models. To get access to the spiciest group shows and private shows, you'll need to spend a few dollars.
The good news is that Jerkmate doesn't have any designated "paid" and "free" accounts. In other words, no monthly subscription is required to access extra features. So if you just want to make a one-time credit purchase, you can do that.
When it comes to pricing, Jerkmate is fairly transparent. Each credit costs one unit of your local currency. So if you're in the US, a credit costs $1. If you're in the UK, it costs £1. In the EU, it costs €1. On the other hand, this pricing method means that not everyone actually pays the same price. For example, at the time of this writing, £1 is worth $1.28. So depending on where you are, your value may vary.
For group shows, the model will set a goal, which can vary depending on the model. The good news is that you can make a minimum contribution and get full access. So if their goal is 500 credits for a 30-minute show, you can contribute 5 credits and get access to the full show. For private shows, the price per minute can vary from 1 to 7 credits per minute, depending on the model. Rates are negotiated in advance, so you won't get surprised by a high price. In addition, the site sets a spending limit, which starts off at $150 per day. To increase your limit, you'll need to spend money on Jerkmate on a regular basis.
Models
Jerkmate hosts a wide variety of models, including girls, guys, trans models, and even couples. At the time of this writing, there were over 1,000 models online, and over 9,500 female models in total. When you add in male and trans models, the total rises to over 15,000 choices.
As with most porn sites, you probably won't be into every single model. Thankfully, there are several categories to choose from. These range from hair color to boob size to body type to ethnicity. You can also choose models based on what they're into. There's vanilla masturbation, anal, foot fetishes, and more exotic tastes. Pretty much whatever you're into, at least one of these models is going to be willing to do it. Just be prepared to tip generously.

Mobile Site
The Jerkmate mobile site is well designed. For non-members, you get the same features at the desktop site, along with an added bonus: there's no robot assistant blocking the screen. For members, the main site has a slimmed-down design that looks great on an Android or iPhone. The tiles are sorted into 2 columns, and the category searches are collapsed into a dropdown menu at the top of the page.
When you enter a show, the interface is simplified. Instead of a bunch of buttons all over the page, there's just the video at the top, and a chat window at the bottom. The only downside of the mobile site is that there's no live preview when you're searching for models. This is understandable, since there's no way to mouse over a profile pic. But it means you'll need to enter a model's room to see what's going on.
Cam Climax
So, how does Jerkmate compare to other, similar sites? This is hard to say, because there aren't many similar sites. On the one hand, the front-end site is a basic roulette site with a few added features. On the other hand, the members' site is a traditional cam site.
The roulette site is better than most. It offers extra features, including the ability to set your own preferences. Best of all, the models are professionals. If you want to jerk off with a woman, you don't have to wade through a sea of dicks to find one.
The cam site is about average. We liked the fact that credits are priced in local currency. It makes the costs transparent. We also liked the filtering options and the mobile site. That said, the bait-and-switch approach rubbed us the wrong way, since you can't actually access chat features on the roulette site. Definitely check out Jerkmate, but be aware of what you're getting into.
Pros:
Over 15,000 models
Most features available for free
Easy-to-use interface
Transparent pricing
Well-designed mobile site
Cons:
Not actually a roulette site
Daily spending limit takes time to increase
Visit Jerkmate