ChatRandom - www.chatrandom.com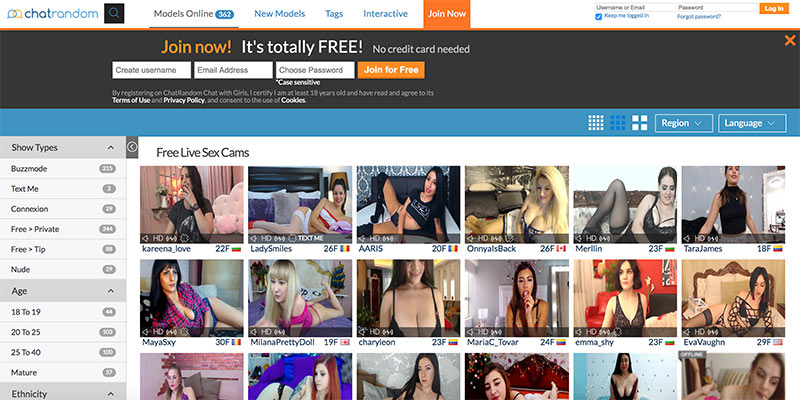 Girls.ChatRandom.com is a bit of an oddball. It's a subdomain of ChatRandom.com, which was created in 2010 as an alternative to ChatRoulette. It's owned by Brentwood Holding Group Inc, which also owns Nudelive.com, Chaturbate.com and their affiliated sites. That said, Girls.ChatRandom.com has different models and a different layout, and seems to be independently run.
As of January, 2019, there was no publicly available traffic info for the subdomain Girls.ChatRandom.com. The entire domain, ChatRandom.com, is the 18,0780th most-visited website worldwide, the 22,213rd most-visited website in the US, and the 156th most-visited chat or forum site. Its global Alexa ranking is 13,902. Its US Alexa ranking is 14,153. 10% of users came from the US, with 7% from Canada, and 6% each from Brazil, Turkey and India.
ChatRandom Chat Costs
Girls.ChatRandom.com has three types of paid shows:
Private shows give you one on one access to the model's cam for a set, per-minute price. Since every minute costs money, it's a good idea to chat with the model first to make sure you're getting what you want.
Voyeur shows allow you to watch another user's private show. You'll have access to video only, no audio, cam2cam or text chat.
Public happy hour shows are similar to other sites' group shows, but there's no minimum goal to get a show started. Models in happy hour mode appear in their own section of the site. Just click their thumbnail to watch instant nude action at a per-minute price.
All charges are opt-in, with a prominent warning and confirmation button so you won't pay for anything by accident. Users pay for all services in tokens, which you can buy with a credit card. You can also pay by check or money order, which is sure to satisfy the burning desire of millions of men to buy online porn via snail mail.
We've listed the token packages below.
| | | |
| --- | --- | --- |
| Credit Card | | |
| 250 Tokens | $26.00 | $0.104 |
| 500 Tokens | $50.00 | $0.10 |
| 750 Tokens | $75.00 | $0.10 |
| 1000 Tokens | $99.00 | $0.099 |
| Check or Money Order | | |
| 250 Tokens | $26.00 | $0.104 |
| 500 Tokens | $50.00 | $0.10 |
| 750 Tokens | $75.00 | $0.10 |
| 1000 Tokens | $99.00 | $0.099 |
Models on this site set their own prices, so there's a lot of variation. The top models will tend to charge higher prices, but most private shows fall in the 30-40 token per minute range. Happy hours usually run around 20-25.
| | | | |
| --- | --- | --- | --- |
| Public Happy Hour | 10-35 | $0.99-$3.64 | $4.95-$18.20 |
| Private Show | 20-100 | $1.98-$10.40 | $9.90-$52.00 |
| Voyeur Show | 15-40 | $1.49-$4.16 | $7.43-$20.80 |
There are also public chats where models use interactive LoveSense and Ohmibod toys. If you want to play along, it'll cost you between 5 and 25 tokens per vibe, but just watching the show is free. Videos are available on a pay-per-view basis from individual models. They typically run from 20-50 tokens per view, but rates can vary. You can also join a model's fan club for unlimited access to all their content.
Autobill warning: Joining a model's fan club will cause your credit card to be billed a monthly or quarterly fee, depending on which option you choose. Other than this, there are no recurring charges on Girls.ChatRandom.com. All token purchases are one time charges.
Model Manifest
Mötley Crüe would love this site, because it's nothing but girls, girls, girls. Okay, there are a few couples. 19 straight couples at the time of this writing, and 14 girl-on-girl couples. The other 370 active models were all solo females. With a total of over 225,000 girls, Girls.ChatRandom.com provides plenty of spank bank material for straight guys and lesbians. Straight women and gay men will prefer other sites.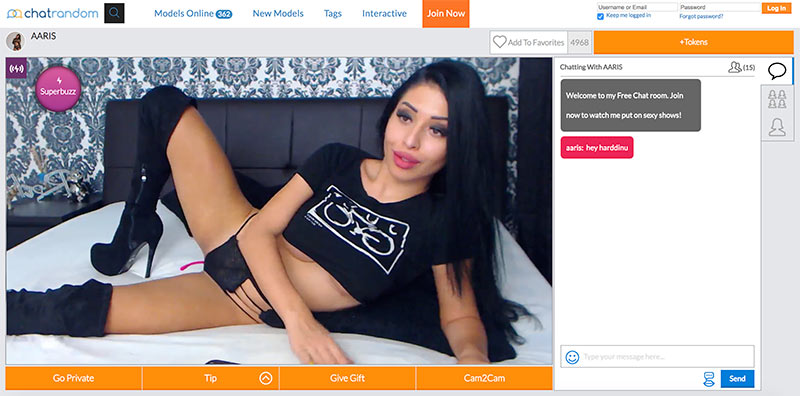 Fucking Features
ChatRandom.com is a well-rounded site with a variety of features that include:
Free public chats with the ability to tip models.
Public interactive sex toy shows.
Instant access to group shows.
Private shows offer one-on-one access to the model for a per-minute fee.
Voyeur shows allow you to spy on private shows, but not hear the audio or participate in the chat.
Users can send private messages to models and other users.
Users can add models to a favorites list.
Cam2Cam access available for most models.
Videos available on a pay-per-view basis.
Model fan clubs grant unlimited access on a subscription basis.
Model profile pages with their schedule, fetishes, likes and dislikes, and preview images.
Sexy Systems
ChatRandom.com's homepage will ask you to sign up for a free account the first time you visit. This is optional. Anyone can view public shows, but you'll need a free account in order to buy tokens or add models as favorites. Signup takes just a few seconds. The page layout will be familiar to cam site users. Thumbnails of active models are displayed in order of popularity, and clicking these images will open the models' chat rooms. There's no way to preview the video before entering, although thumbnails will display a banner if the model is in a paid show.
All models are displayed on the home page by default. You can filter them by categories via the left sidebar. While there is no advanced search feature, there is a basic text search at the top of the page if you're trying to find a specific model. The girls on this site are independent contractors, so video quality may vary. That said, most of the streams are in HD, play smoothly and have good audio. The site in general is lightweight and loads quickly. It does auto-refresh from time to time to update the list of active models.
Girls.ChatRandom.com's mobile site looks fantastic. This version of the site is minimalist and tile based, and the video quality remains high. Our one complaint is that the chat rooms take a bit longer to load on mobile. The video store is underwhelming for such a large site. Many of the videos are old, outdated and poorer quality. The lack of a purchase option was also disappointing. There is no advertising of any kind on this site.
Conclusion
Pros:
Girls, girls, girls — hundreds of thousands of hot models
High video quality
Happy hour feature lets you quickly find and join group shows
Great mobile site
No ads
Cons:
Video store feature is limited
Girls.ChatRandom.com may be a subdomain of a larger site, but it's still a top tier cam site. With hundreds of thousands of sexy girls, their happy hour feature, and a nut-load of public toy shows, they've got all the features of better known sites. On a scale of one to five, this site fills all five tissues.
Visit ChatRandom