Camonster Review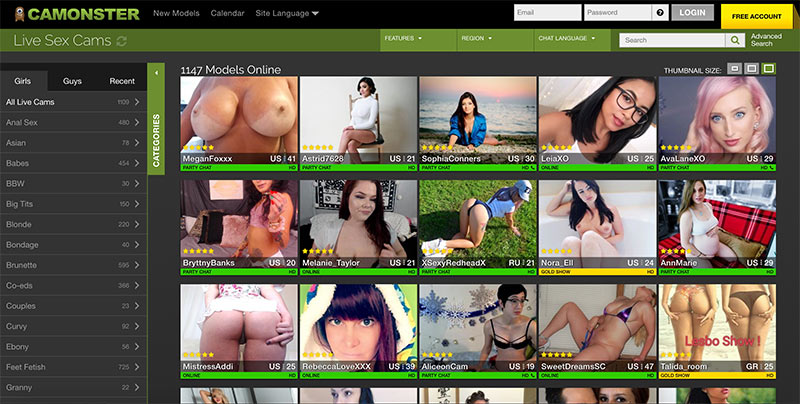 Camonster is a clone of streamate. We recommend visiting streamate instead. Camonster.com is a free to use cam site with a clean design and an easy to use interface. Camonster aims to please most sexual kinks and flavors. The site appears to be independently run and owned and offers a large number of models from which to choose.
Camonster Chat Costs
Camonster advertises free viewings and free accounts, but you're not going to get very far without paying for private shows or tipping. The site operates off a currency they call "gold," which can be used to tip models, help them reach goals for "gold shows," as well as buying private shows. If you're wanting to know the costs of gold before attaching your credit card to your account, you have to dig into the FAQ's, where you'll see the following rate for gold:
1 unit of currency = 1 gold
Which means, depending on your country of residence, you're either getting a decent deal, or you're getting dicked. Speaking of getting dicked, paying with PayPal is an option, but they include a 7% processing fee for it. Even with debit/credit cards, they advertise a 1% - 2% processing fee. You also have the option to buy blocks of time, which come with the following discounts:
5% off 15 minutes
10% off 30 minutes
15% off 45 minutes
20% off 60 minutes
Blocks are not always available (the model has to activate the offer), and there appears to be some kind of limit on how many blocked sessions you can buy daily. Rates for gold shows, block viewing, and private shows vary from model to model, and block and private viewing prices are only available once you've created an account with an attached credit card. The terms and conditions state that you'll be clearly told if something costs money and how much it costs before your charged, but requiring a credit card to even create a "free" account already feels a bit sketchy to us in terms of trusting a site.
Model Manifest
Camonster offers an impressive variety of models from which to choose. Models are categorized by male and female and are further divided hashtags, which are immediately available on the left-hand side of the screen upon entering the site. The hashtags appear to be model generated but appeared fairly accurate on the several we tested. The actual amount of models available appear somewhat limited, with consistently 1200 total live models online throughout the writing of this review, the vast majority of which are women.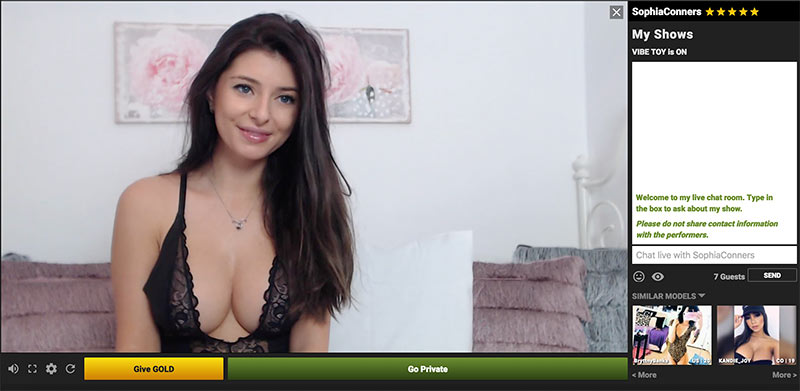 Camonster's Fucking Features
Camonster has the normal features you would expect from a small, basic cam site, including:
Free chats (though you're constantly prompted to connect an account every time you send something)
Ability to tip models
Private chats
Ability to buy blocks of time with models
Very clean mobile site
Model profiles that include extensive information, including background, measurements, the types of shows you can expect, free/paid pics and videos, and available schedules.
One item that is particularly lacking is the "free" content available on the site. You will find almost no nude/sexual content without getting a model into a gold show or a private show, both of which cost money. We went through several models, and most are just staring at the screen, sometimes topless, trying to get enough gold for a "gold" show. Disappointing for sure for a site that bills itself as free.
Sexy Systems
This site is very well designed, runs very cleanly, and there were hardly any technical issues experienced. Navigation of the site is incredibly easy, especially with alphabetical listing order of categories that are very easily found and used. The searches ran provide relevant results, and it overall seems easy to find what you want to make Sir Peen Peenie a happy prince.
Even without creating an account, the site will still keep track of models you've viewed, which appear to remain available until you close your incognito browser (or you clear your history and cookies because you weren't already in private browsing you monster what's wrong with you).
Conclusion
Pros:
Large variety of niches represented
Lots of models online at any given moment
Very well organized site, easy to find what you want
Very clean, well-run site. No technical issues experienced
Cons:
There is essentially no free nude/sexual content (you MIGHT find a model without a shirt on)
Pay structure is extremely inconsistent depending on the currency in which you're purchasing
Pay structure is purposefully hidden and obscured
Unable to create an account with linking PayPal or credit card information
Huge transaction fees if paying with PayPal
Camonster seems like your generic, unextraordinary cam site. It's not particularly bad, there are lots of models and lots of niches, but it's just not particularly good, either. Even though it's a "free" site, there's almost no "free" content beyond models sitting looking into a camera. The site is so well designed and organized but falls flat because so much content is behind an invisible, gigantic paywall.
The fact that an account can't be created without attaching a credit card screams "we're banking on people accidentally purchasing something and we're an absolute bitch to do refunds with." This especially seems true as there's no posted pay structure beyond a blurb buried in the FAQs. And since any kind of interaction (free chat or otherwise) prompts the creation of an account, the site appears to be attempting to funnel anyone remotely curious into creating that free account and then accidentally purchasing something, as opposed to attracting you with active models and enticing you to buy currency in order to more fully interact with them.
Camonster is worth a visit if you're curious, but we wouldn't really trust connecting any payment method with it. There are definitely other better, more transparent cam sites that have more content overall, more free content that's not implicitly blocked. The site was clearly made by money in order to make more money, but that money doesn't need to be yours.
Visit Camonster