CamContacts - camcontacts.com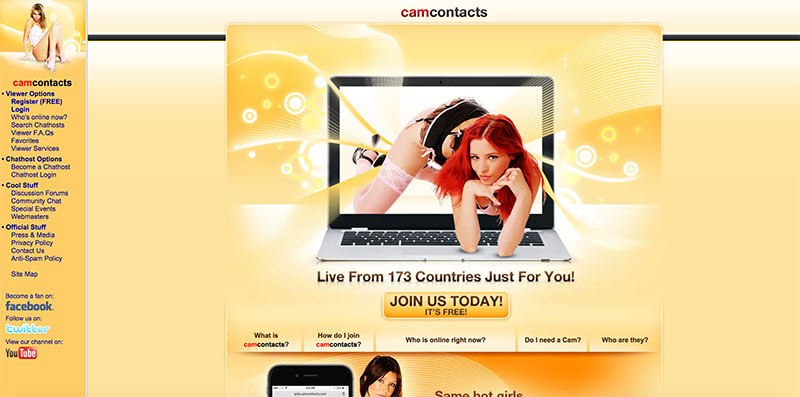 CamContacts.com was founded in 1999, and is one of the longest-established cam sites on the web. It's the flagship site of the Netherlands-based CC Network, and it's affiliates include WebCamLife.com, AllCams.com, topteenwebcams.com, findloves.com, russianwomencam.com, lesbianrooms.com, camsexnow.com and dungeonvideochat.com.
As of December, 2018, CamContacts is the 40,589th most-visited website worldwide, the 4,094th most-visited website in Ukraine, and the 2,782nd most-visited adult site worldwide. Its global Alexa ranking is 88,285, and its US Alexa ranking is 44,373. 27% of site users are from Ukraine, and 17% are from the US.
CamContacts Chat Costs
CamContacts' models set their own prices, so there is some significant variation and overlap between price ranges.
Open sessions are similar to group chats on other sites.
Private One2One sessions grant exclusive access to the model's video stream and the ability to use Cam2Cam if you have a webcam enabled. Other users will still be able to send messages to the model, but the model will not receive them until the One2One session is over.
Strip HiLo is similar to strip poker. There are no additional charges beyond the per-minute rate.
All CamContacts charges are in real-world currency. There's no token system, so you won't need a calculator to figure out what you're actually paying. Prices tend to run lower than other cam sites, but vary widely depending on category. Hardcore cams and "glamour" models tend to have higher rates, whereas non-nude chats rarely run higher than $1 a minute for an open session.
| | | |
| --- | --- | --- |
| Open session | $0.90-$3.30 | $4.50-$16.50 |
| Private One2One session | $1.36-$4.96 | $6.80-$24.80 |
| Strip HiLo | $1.25-$2.80 | $6.25-$14.00 |
A free membership is required to access all site features, even free text chats, and a credit card is required for age verification. This is strictly a paid site, so while there is no membership fee, there are no free cams of any kind. CamContacts.com charges no monthly fees. Per-minute rates are prominently displayed before entering a model's chat, and the user must specifically approve all charges.
Model Manifest
As of December, 2019, CamContacts.com has a truly staggering 233,647 models, with 1,460 of them currently streaming. Of these, the vast majority are solo female. The rest are lesbian couples (12 cams), straight couples (11 cams), groups (1 cam), transsexual (59 cams), straight solo males (5 cams) and gay solo males (15 cams). The site is primarily geared towards straight men and lesbian or bisexual women, as others will have extremely limited options.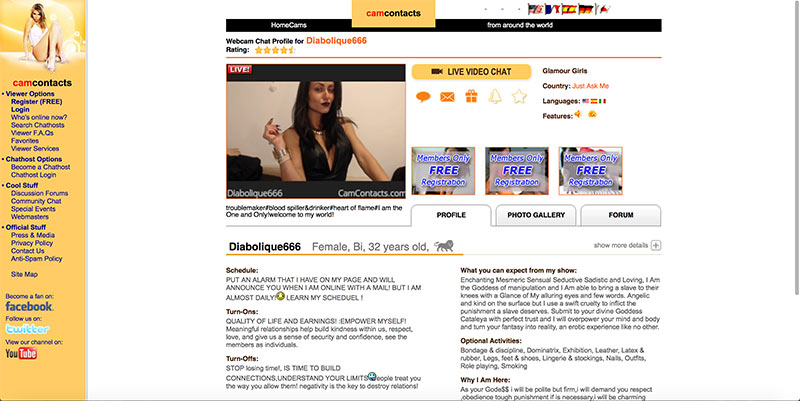 CamContacts' Fucking Features
CamContacts offers group chats and private chats across a broad price range, with all chats charged at a per-minute rate.
Open session chats, with a wide range of content from everyday conversation to masturbation to hardcore couple sex shows.
Private One2One sessions where users have sole access to a model's cam. Content of these sessions varies by model.
Innovative Strip HiLo sessions combine a striptease with a card game.
Model pages indicate when cams are in HD.
Cam2Cam available for One2One sessions.
Mobile site has been active since 2003 and scales well.
Models are sorted by what they're offering, rather than by body type or ethnicity.
Categories include models who are looking for a relationship or just a friendly chat, as well as those who perform sex acts.
Ability to view model profiles, including sample photos, availability, and what to expect from their stream.
Members can add models as favorites for ease of access.
Private messaging with models and other users.
Free text chat available on desktop site only.
No ads.
Sexy Systems
CamContacts.com's homepage displays thumbnail images of the most popular active models, sorted by category. You can either click one of these thumbnails to start chatting, or click on the category itself to view thumbnails of all active models in that category. Thumbnails display profile pictures only. There is no preview option, which is a bit disappointing. Since all cams are paid, there is no way to see what's going on in a video stream without paying a minimum of one minute's charge.
The mobile version of the site is a bit scaled-down, with thumbnails replaced by tiles and many options collapsed into menus. It's clear they put a lot of thought into this, because it loads quickly, looks good, and there is no loss of functionality.
CamContacts' standout feature is the way it sorts models into categories. Rather than focusing on body type, ethnicity, breast size or hair color, CamContacts sorts models according to their interests. Categories include non-adult categories like "Make New Friends" and "Long Term or Marriage" as well as plenty of adult categories like "A Little Shy", "Not So Shy" and "Instant Action". Models are also sorted by solo female, solo male, trans, lesbian, couples and groups within these categories.
Because CamContacts doubles as a dating site, it has more emphasis on conversation and getting to know the model, so expect to spend more time here than you will on other, "wham, bam, thank you ma'am" cam sites. On the other hand, the per-minute rates are lower than most sites, so your bank account should come out about the same in the end.
The majority of CamContacts' models stream in HD, with their internet connection type and video quality displayed on their profile. Since models are independent contractors working from home, there is significant variation in video quality, but most models appear to have good internet connections and cameras. There is no feature for downloading videos, although past shows can be viewed on a per-minute basis. Because all the site's content is paid, there are no ads of any kind.
Cam Climax
Pros:
Over 230,000 models
Mobile site is modern and minimalistic
No ads
No autopay system
Models grouped by interest
Male/female/trans models listed separately by default
Cons:
No download option for model videos
No way to preview model streams
No free content whatsoever
CamContacts is a unique cam site, with options for conversation as well as more adult activities. The site emphasizes getting to know the models and has an active user community. If you're looking for a quick wank, it's probably best to look elsewhere, but if you're looking for some sexy conversation with beautiful models, this is a great site.
Visit CamContacts