Cam4Ultimate - cam4ultimate.com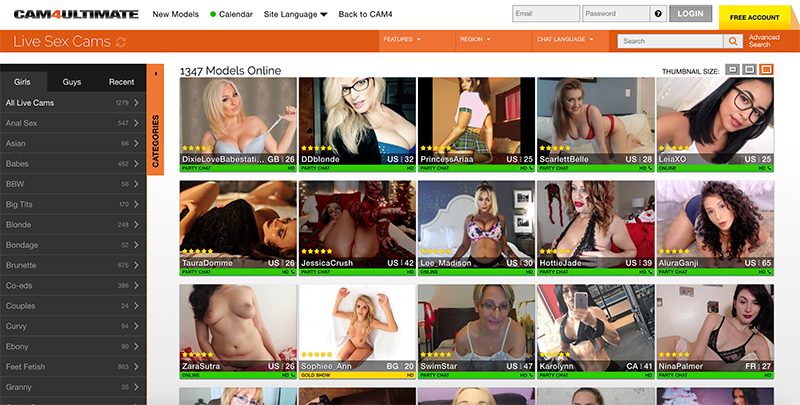 Cam4Ultimate.net is an established cam site which has been featuring hot babes since 2010. While it sadly lacks options to download content and interact with models, it's still a great site thats worth your attention, if only to see if theres a gorgeous woman you just have to watch.
The site is hosted by Flying Croc Web Services, and no information is publicly available about the owners. Cam4Ultimate does not appear to be part of any network. As of December, 2018, Cam4Ultimate is the 97,051st most-visited website worldwide, the 75,504th most-visited website in the US, and the 5,718th most-visited adult site. Its Alexa ranking is 103,691 and its Alexa US ranking is 92,280. 21% of the site's users are from the US, with the next-highest country being Chile, with 7% of visitors.
Cam4Ultimate Chat Costs
Cam4Ultimate's models set their own prices for different types of shows. All payments are in real-world currency, so you won't have to do any math to figure out what you're paying. Types of shows include:
Group shows allow performers to set a minimum donation amount to reserve a spot for the show, as well as a total donation goal to get the show started. Group shows work on a "pledge"-based system, so you only get charged after the show begins.
Private shows give you private access to the model's cam, as well as Cam2Cam access if the model offers this service. Other users will still be able to join the chat at the same per-minute price.
Exclusive shows are the same as private shows, but other users will not be able to chat with the model.
All shows are opt-in, and the prices are displayed in advance so you know how much you're paying. While some of the site's top models charge as much as $14.99 per minute for an exclusive show, typical rates for a private show are about $4-$6, and some of the models are priced even lower. We've included a list of prices we found, although these are by no means exhaustive and should serve as a general guideline.
| | | |
| --- | --- | --- |
| Private Show | $2.49-$7.99 | $12.45-$39.95 |
| Group Show | $0.44-$1.25 | $2.20-$6.25 |
| Exclusive Show | $3.99-$14.99 | $19.95-$74.95 |
No membership is required to join public chats or to access model preview images and free sample videos. However, a membership is required to access all other features. Group shows operate on a pledge system, where users "pledge" a certain amount of money towards the model's total goal. You can cancel your pledge at any time before the show starts, and no money will actually be charged to you if the model does not meet their goal.
Some models offer public Ohmibod shows, where users control the model's vibrator by tipping "gold". 1 gold costs 1 unit of your local currency, so your costs will be lower in countries with weaker currencies, and higher in countries with stronger currencies. If you're looking for free access beyond simple chatting, this is more or less your only option, since all other sex acts will be in group or private shows.
Users can also buy premium videos directly from models, with prices ranging from less than $5 up to $25 for longer videos. There is no download option, but users can access purchased videos any time they are logged in. Membership is free (besides whatever you pay for shows and videos), so you won't see any monthly fees or service charges
Model Manifest
Cam4Ultimate has a large selection of models. At the time of this writing, there were 1,350 active models. 1,134 were solo females, 120 were solo males, 66 were trans, 22 were couples and 8 were groups. All models are displayed by default, although users can filter models by male, female, trans or group. This is some of the broadest selection we've seen, so whether you're a guy or a girl, gay or straight, there's something here for you.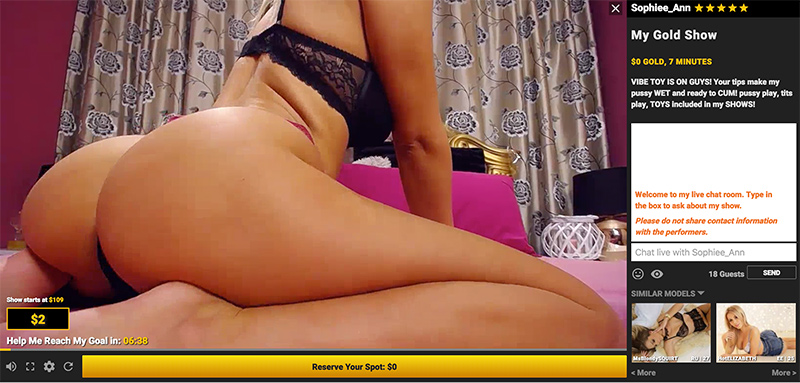 Cam4Ultimate's Fucking Features
Cam4Ultimate offers features that will be familiar to cam site users. While public chats are available to non-members, all other features will require an account.
Free chat sessions where models set donation goals to unlock group shows for anyone who tips a minimum amount. Models typically specify in advance what kind of show it will be such as masturbation, strip tease, simulated blowjob, etc.
Private Shows, with prices set by the individual models. Other users will still be able to join the show at the same per-minute price, but will not have access to Cam2Cam if you are already using that feature.
Exclusive shows with prices set by the models. Other users will not be able to join or chat with the model.
Mobile version scales well and loads quickly even on older phones.
Cam2Cam available for private and exclusive shows if the model has that feature enabled.
Most cams on the site are in HD.
Ability to purchase premium video, with prices set by the individual models.
Model profile pages with details, preview pictures, preview videos, and the ability to send private messages and add models as favorites.
Interactive, public Ohmibod shows by some models, with rates based on the user's local currency.
Private messaging with models and other users.
Pledge-based system for group shows. No actual charges if the model does not meet their goals. No ads.
Sexy Systems
Cam4Ultimate.net loads quickly, and the homepage displays a series of thumbnail images of the models' profile pictures. There is no preview option, so you'll have to go into the chat room to see what's going on. A banner will display across the thumbnail if the model is currently giving a private show, or if they're currently taking pledges towards a group show.
Cam4ultimate's advanced search feature allows users to filter models by 64 different tags including body type, language, fetishes, and hair color. It also allows users to filter by category in order to display only females, only males, only trans models or only groups.
The vast majority of Cam4Ultimate streams are in HD, with fast load times and minimal latency. An upside to this being a paid site is that there are no popups, banner ads, or other advertisements of any kind. While the site does not allow users to download videos, it does allow you to purchase videos and access them at any time from a "my videos" page in your account.
Cam Climax
Pros:
Thousands of HD cams
Interface scales well on mobile
No ads
No autopay system
Some group shows are free, though you will still need a (free) account to gain access
Pledge-based system for group shows means you only pay for shows that actually happen
Cons:
No download option for model videos
Cam4Ultimate is a modern site with a sleek interface that loads well on desktop and mobile. While there's not much free content here, prices are transparent and in line with other paid cam sites. They also have a large selection of models, so regardless of your particular kink, you'll find yourself running out of tissues in a hurry.
Visit Cam4Ultimate