All About Streamate Pricing (2022)

Visit Streamate
A few years ago, Streamate surged to become one of the most popular cam sites on the web. This was mostly due to a massive ad blitz on late night TV, most notably on Comedy Central. Of course, advertising can only get you so far. In practice, if you're going to stay popular, you actually need to have something to deliver. In this regard, Streamate far outperforms much of their competition. They host literally thousands of hot models, about 90 percent of whom are female. If you want to watch a gorgeous cam girl dildo herself to orgasm, you're looking at one of the best places to make that happen.
But as with any cam site, the best features are only available to paying members. This only makes sense. Just like the rest of us, these girls have bills to pay! To participate, you'll need to add some money to your account. Unlike most cam sites, Streamate charges real money for their shows, not credits. The plus side is that you don't have to do any math to figure out what you're paying. The bad news? You won't get discounts for buying in bulk. But that doesn't mean you can't save money.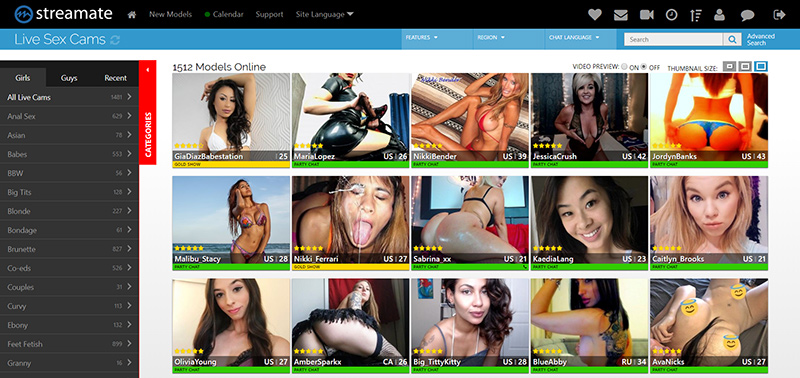 How Do I Pay For Streamate?
Basic Streamate shows are free and open to the public, but, as we said, the best features cost money. The first step to gaining access is to create an account. During the account creation process, you'll be asked to put a payment method on file for account creation. This can be either a credit card or a PayPal account. Depending on the card type, you might be charged a fee of up to $2.00 for the verification process. Keep in mind when you do this that PayPal accounts cannot be used for age verification. Instead, you'll be sent an email asking for a picture of your government-issued ID. On the one hand, this is a bit of a pain. On the other hand, it does ensure that no-one can fraudulently use your PayPal account to watch their own cam shows.
Most Streamate shows are paid in ordinary currency. To do this, you simply log in to your account page and add money to your account. There's a daily limit, which defaults to $50, but you can raise or lower that amount by emailing Streamate customer service. It's basically there so you don't impulsively spend too much money just because you're extra horny.
Some Streamate services are paid in "Gold". This is an on-site currency, and is equal to 1 US dollar. Gold is only used for two specific services: tipping models and "gold shows". Otherwise, you just use cold, hard cash. Pricing is transparent, but EU members will be charged Value Added Tax, and PayPal accounts will be charged a nominal service fee. You'll be notified of the exact fee before you make your purchase, so there won't be any surprise charges on your bill.
How Can I Get Free Streamate Credits?
At this time, Streamate is not offering any free promotions. However, there's one thing you do need to be aware of: Streamate scams. Some unscrupulous websites claim that you can get free credits to your Streamate account simply by giving them your login information. This is simply not true. As a matter of fact, you're likely to lose money. These scammers operate by stealing your login information, and since you already have a payment method on file, they're able to start charging your card or PayPal account for boatloads of money. Best case scenario? You get nothing. Worst case scenario? You end up with a hijacked account and a massive credit card bill. Remember: if something sounds too good to be true, it probably is.
What Can I Buy on Streamate?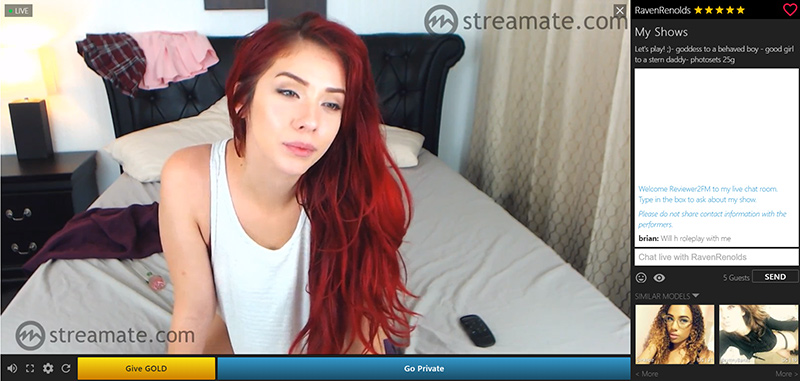 Once you've created your Streamate account, you'll have access to some of the hottest cam girls online. Perhaps the easiest way to enjoy a show, if not the cheapest, is simply to take a girl private. Private shows allow you to have one-on-one access to a cam model, and direct her actions within reason. For this type of show, models set their own rates, which can range from $0.99 per minute for newer models to $8.99 per minute for the most popular models.
In a private show, you get exclusive access to chat, but other site users can still peek in at the same price. They just won't be able to chat with the model, or interact in any way. But what if you have a kink that you'd rather keep personal, just between you and the model? In that case, you can connect for an "exclusive chat". In an exclusive chat, it's just you and the model, but you'll pay a steeper price for the privilege; rates for exclusive chats range from $4.95 per minute up to a whopping $44.95 per minute. If you've got a diaper fetish, maybe these rates are worthwhile. But for most other purposes, an ordinary private show is going to be a better deal.
One way to save money on Streamate is to book a discounted block session. These chats offer a 5% discount for 15 minutes, a 10% discount for 30 minutes, a 15% discount for 45 minutes, and a 25% discount for 60 minutes. This requires you to work out a deal with the model in advance. Keep in mind, if she's getting a lot of tips, or has an offer for a private show, she may not be interested in a block session.
The last way to enjoy a show on Streamate is to sign up for a gold show. To do this, you'll need to buy gold in advance. In a gold show, users pledge a certain amount of gold in advance. If the model reaches her goal, the gold is deducted from your account and you get access to the show. If not, the gold is refunded to your account and you can continue browsing. These shows offer the best value, since multiple Streamate users are all paying for the same service. That said, you won't get the same personal attention as you would in a private show.

Similar Articles