How to Get Free Tokens and Credits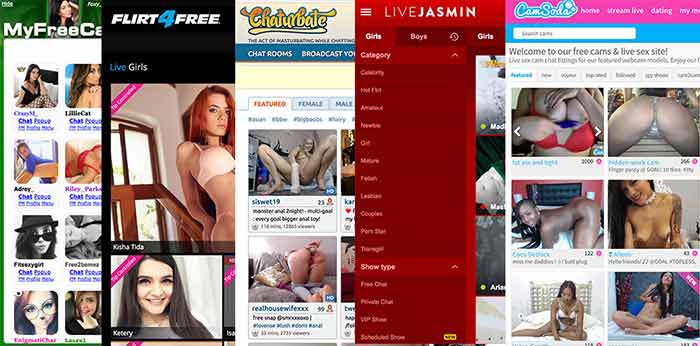 If you've spent any time with adult cam sites, you know that you don't make purchases in real dollars. First you have to by tokens or credits - the digital currency that's used by the site. These tokens are purchased in specific quantities with real money. There are some major downsides to this system - namely that its designed to encourage you to spend a lot of cash! But there are benefits also. Because cam site Tokens and Credits aren't real currencies, you can take advantage of special offers and promotions to get them for free.
Free tokens and credits are as good as having spent real money on a cam site. They give you access to premium content. This can include picture sets or videos, private shows, discounted spy shows, tips in public shows, etc. Most adult cam sites will let you sign up as a user with just an email address, but generally this doesn't give you access to much. At best free users get access to public or "gold" shows where anyone can watch and tip the models - sort of like at a strip club, except they're tossing Tokens instead of dollars.
But if you want a taste of premium content - a sneak peak of the quality that comes with spending some money - you can get it by taking advantage of special offers.
Types of Free Offers from Cam Sites
First it's important to say this: If you see sites advertising "token generators" or a "token hack" method, then run the other way. These are scams that are trying to collect your personal info so it can be resold to spammers and hackers. They'll ask you for your phone number or email for "confirmation", then never actually give you tokens.
Luckily adult cam sites offer methods to generate tokens or credits legally! Generally there are four ways to get free stuff:
The Signup Bonus - Statistically it's more likely that someone will make a purchase if their credit card is already on-file. This means that cam sites are willing to give you about $5-$12 worth of tokens for free if you just enter valid credit card info. No charge will be made! The sites we discuss below are trusted, secure, and will keep your card info safe.
The best initial signup offers:
LiveJasmin ($10 of free credits with a valid card)
CamSoda ($6 of free tokens with a valid card)
Flirt4Free ($5 of free credits with a valid card)
The Referral Program - Cam sites want as many users as possible! Some are willing to give you free credit for every other person you sign up. In many referral programs you get an extra bonus if a user you referred makes a purchase. Chaturbate even has a referral program for models - if you refer someone who becomes a performer, you can get a massive payout in Tokens!
The best referral program offers:
MyFreeCams: 20 tokens ($1) per referred user, 200 ($50) tokens for referred buyer
Chaturbate: 10 tokens ($1) per referred user, 500 ($50) tokens for referred performer
BongaCams: 50% of referral purchase
The Regular's Bonus - Ok, this isn't strictly free. It's more like a customer rewards program. Cam sites love their regulars and want to do everything they can to keep them happy. To this end, some sites give out big discounts on bulk purchases or flat discounts across the board for regular use of the site.
The best sites for regular spenders:
Flirt4Free: An extensive rewards program where every action gets you points
MyFreeCams: Buying in bulk decreases token costs by 20%
The Performer's Payment - On many cam sites performers are actually paid in tokens or credits, which they then cash out into dollars at a flat rate. So if you're at all inclined to perform, you can earn tokens and spend those on the site yourself. I have a friend who broadcasts every night just to earn some cash with Chaturbate. When I asked him why he decided to start, he said "well I was going to jack off anyway. May as well get something for it." Smart dude. While you can technically stream on any cam site, the most amateur friendly ones are MyFreeCams (for women only) and Chaturbate.
How to get free tokens and credits - on just about every site.
LiveJasmin
Programs:
Initial Bonus: 9.99 tokens, $10 value, for $0 (valid card)
There's exactly one way to get free credits on LiveJasmin - by creating a free account and entering your valid credit card info. This gets you a one time offer of 9.99 Credits (roughly a $10 value on the site). One LiveJasmin this won't get you a ton of one-on-one time with a model. You can use this cash to spy on private shows and get a peek, download picture sets or videos from models you like, or just get a head start with your purchases
This one is a little tricky to claim without spending cash. To do this, create a free account, then click "Buy Credits", then click the small "x" in the top right as if you were trying to close the window. Then a new window will come up with the offer of 9.99 for 0$ - just enter your card info and you're good to go.
LiveJasmin is especially crowded with fake credit hack scams and shady websites. Be sure to ignore all of these! If you're dead set on seeing great cam shows for free, check out this page for our recommendations.
Visit LiveJasmin
CamSoda
Programs:
Initial Bonus: 50 tokens, $6 value, for $0 (valid card)
Limited Time Offer: 300 tokens, $33 value, for $10.99
The one-time free Token offer from Camsoda is available once you enter valid payment information. Again, this is a perfectly safe site. The billing company Epoch is known for being absolutely discreet and secure. Your payment info gets you 50 Tokens free.
This is enough for maybe a few minutes of private chat, but you'd probably have more fun tipping in group chat for some flashes. You could also use the Tokens to unlock premium pictures, but it's doubtful this would even be enough for one short video clip. Still, it's free tokens, and it's a good way to check out the site before committing to purchases.
For a limited time, Camsoda is offering 300 tokens, worth $33, for just 10.99. This is a pretty great deal considering 300 tokens can get you a hot, private show.
There used to be a generous referral program for CamSoda, but it appears to have been discontinued!
Visit CamSoda
Flirt4Free
Programs:
Initial Bonus: 120 credits, $5 value, for $0 (valid card)
Customer Rewards: Earn discounts with reward points
For the best initial offering of credits it's hard to beat Flirt4Free. Just for entering valid card information Flirt4Free gives you 120 credits. Those credits won't go too far for private chat, but it's definitely enough to throw around tips and have fun that way. If you do find one of the cheaper models you may squeeze 5 or 6 minutes of private chat out of that amount.
Flirt4Free has probably the most extensive rewards program I've seen. Almost everything you do on the site accrues loyalty points which can be spent on gifts for performers, access to premium videos, and more. These points can be gained by using the free signup credits so you get a head start on the loyalty program which can eventually get you steep discounts. If you do decide to be a paying member the free Tokens give you a big head start on earning rewards.
Visit Flirt4Free
BongaCams
Programs:
Initial Bonus: 5 tokens, $1 value, $2.99 purchase to claim. 10% savings on first purchase
Refer a Friend: 50% of referral purchase
Mobile Bonus: 100 tokens, $13 value, $17.99 purchase to claim
Giftcard Rewards: $200 in purchases gets you $5 on a giftcard
Big Spender Giveaway: Every day Bongacams gives 200 tokens to the top 5 spenders
This is an often-overlooked cam site that provides a great experience for free users. It does have a few free offers, but in almost every case, these offers are less generous than those on other sites. At the same time, BongaCams is way better for free users than something like LiveJasmin. But hey, since these are free deals, you have nothing to lose but a little time.
While there is an Initial bonus of 5 tokens for first-time purchasers, this equates to a cash value of just over a dollar. And you have to make a purchase anyway to claim it - NOT great. However, if you know some especially wealthy horn dogs, you can make use of the referral program, which is pretty generous. Once you create a free account, click on "FREE TOKENS" in the menu, and navigate to the "refer a friend" tab. Here you'll find a url link that you can send to your friends. If they sign up and make a purchase using that link, you'll get 50% of the value of their purchase. Not bad!
BongaCams also has a hidden offer for 10% off any initial purchase. To see this, make an account and click on "Buy Tokens", then close the window. This will load another popup, as the site scrambles to get your money one last time. Now you should see discounted token packages. The site will tell you this is a one-time offer, but you can find it again if you just close the initial purchase window.
The Mobile Bonus is a new incentive to get more mobile users. To claim it, log into your free BongaCams account via your phone or tablet, and make a purchase of any amount of tokens. Any tokens spent from this purchase will be matched as a reward, up to 100 tokens. To get the full amount of bonus tokens you'll have to make a minimum buy of $17.99.
Visit Bongacam
Chaturbate
Programs:
Performers: Unlimited, tokens can be cashed for $0.05
Refer a Friend: 10 tokens ($1) per referred user, 500 ($50) tokens for referred performer
Spending Limit Increase: 200 tokens, $20 value
Unlike most other sites I've come across, Chaturbate lets you earn Tokens by performing on cam! If you're comfortable with this and you like the site then performing is the best way to get free access to premium content. And if you're someone who likes this idea then it may not even feel like you're doing a whole lot of "work" for those Tokens. Chaturbate also gives you the option of turning in the Tokens you've earned for cash.
Like a few other sites Chaturbate has a reward program that gets you Tokens for referred users. However, the reward for signups is very low. Ideally you want to refer people who are interested in broadcasting themselves on the site. If you refer someone who makes more than $20 broadcasting then you get a whopping 500 Tokens (a $20 value) for free.
There is one more way to earn tokens on Chaturbate - Fill out Chaturbate spending limit increase form. This is just a sheet full of basic info that Chaturbate uses to confirm you're a real person who isn't going to defraud the company. It's super easy and it nets you a hefty 200 Tokens. Also, no purchase is necessary! Just fill out the form and email it as directed.
Visit Chaturbate
MyFreeCams
Programs:
Performers: Unlimited, tokens can be cashed for $0.05
Refer a Friend: 20 tokens ($1) per referred user, 200 ($50) tokens for referred buyer
Though it's one of the most popular cam sites around, MyFreeCams only provides one method to earn free tokens - their "bring a friend" referral program. Here's how it works:
Premium users get 20 tokens per friend who signs up and 200 tokens when that friend makes their first purchase. Free users who refer a friend who makes a purchase instantly become premium members themselves - without spending anything!
Normally becoming a premium user on MyFreeCams requires a minimum purchase of $19.99, but using the referral program you can attain premium status for free, then continue to collect tokens by referring paying users. If you have some friends who are super sexual and would probably like the site, send them a link! If used correctly, the MyFreeCams referral program is one of the most generous offers around.
Visit Myfreecams
Other cam sites we review have some basic discounts or free token packages for first-time buyers, but the sites above provide the most value with their free offers. One clear takeaway is that if you can leverage your network of friends (or maybe just the internet) to take advantage of referral programs, you can keep yourself in premium cam content for a long time!
Similar Articles